This is Doink-O-Rama, John Teti's column about pro football.
Keep an eye on the Detroit Lions. That has been my directive every football Sunday for the past couple of months—not because the Lions are such a great team, quite the opposite. Coming into their Week 13 matchup last Sunday against the Minnesota Vikings, the Lions' record stood at 0-10-1. And during the regular season, there's no better bang for your entertainment buck than watching the delirious exhilaration of a woebegone team picking up their first win. So this year, whenever I saw the Lions flirting with victory, I'd change the channel to that game, which I can do thanks to my subscription to the "NFL Sunday Ticket" TV package, although this is not a feature the Sunday Ticket people advertise. "Subscribe now, so you, too, can keep tabs on the very worst teams in the league!"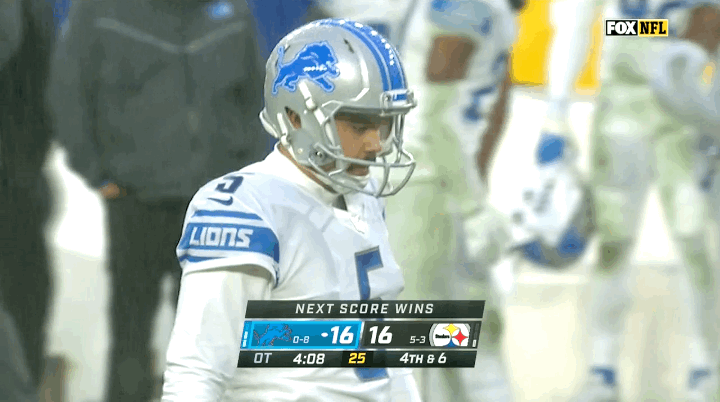 The last time I allowed myself to be sucked into the Lions' pit of despair was Week 10, when Detroit's road game against the Pittsburgh Steelers went to overtime. With about four minutes remaining in the extra period, the contest was in sudden death as Detroit kicker Ryan Santoso walked onto the field to attempt a game-winning kick amid pouring rain. The camera tried to find its focus as a daunted Santoso tried to do the same, nervously wiping water from his mustache and glancing with dread at the goalposts located, by his apparent estimation, approximately three continents away. It was impossible to take in these images and conclude that Detroit had any chance of winning this game.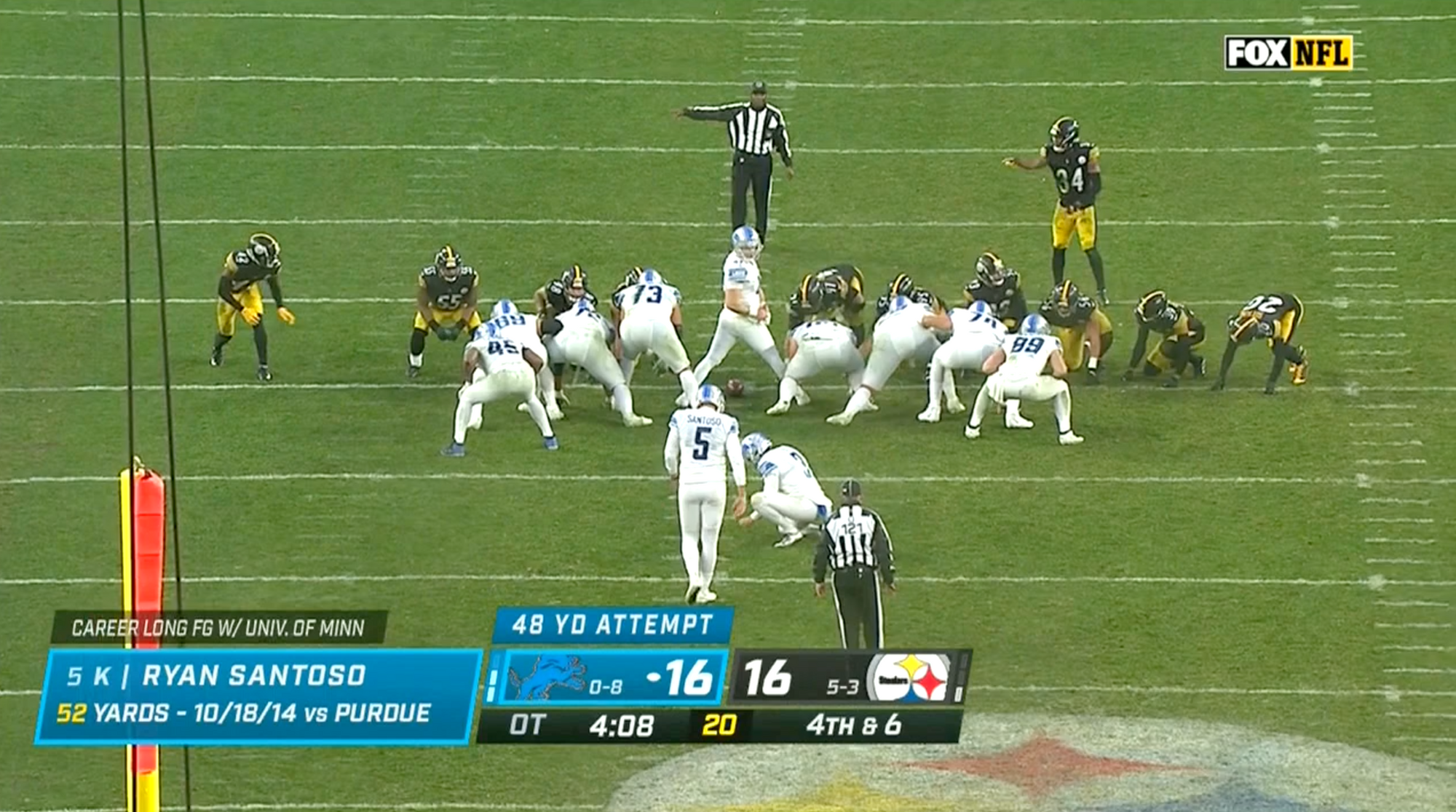 The pathos of the moment was accentuated when a graphic flashed on screen touting Santoso's credentials, so to speak: He once kicked a 52-yard field goal, in college, seven years ago. The graphic might as well have said that Santoso stayed at a Holiday Inn Express last night; that would have been an equally inspiring résumé.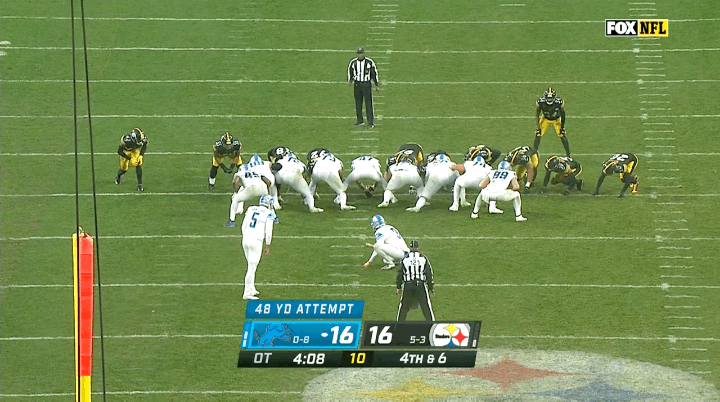 Predictably, the ensuing kick was the saddest goddamn feat of athleticism you will ever see, springing off Santoso's foot with all the gusto of a drunken grandpa rousing himself from a Thanksgiving nap. The game ended in a tie, which didn't diminish the humiliation of the Lions' winless season so much as it added a different kind of indignity to the mix.
On Sunday, in their Week 13 game against the Vikings, the Lions jumped out to a two-touchdown lead in the first half and then, after the intermission, characteristically gave most of it back. Late in the third quarter, Minnesota had whittled Detroit's advantage to five points. I flipped over to the game with hope and also with every expectation of another Detroit collapse. But then I saw the Lions had a new kicker, a rookie named Riley Patterson.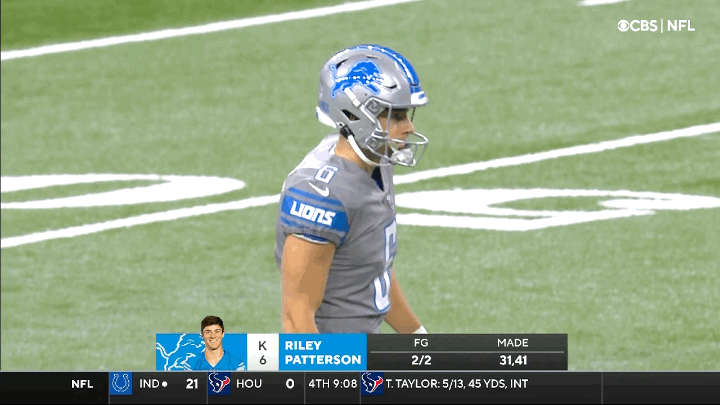 As he lined up for a 49-yard field goal attempt, I compared Patterson against the haunting image of Ryan Santoso from a few weeks ago. Though Patterson, like Santoso before him, had every reason to be nervous, he was instead a picture of calm, methodical determination. The kick was good. Perhaps I was reading too much into the respective dispositions of the kickers—certainly I was. Nonetheless, for me the Santoso-Patterson contrast represented the difference between a team trying not to lose and a team trying to win, and the Lions were behaving like the latter sort of team. I felt they had a chance.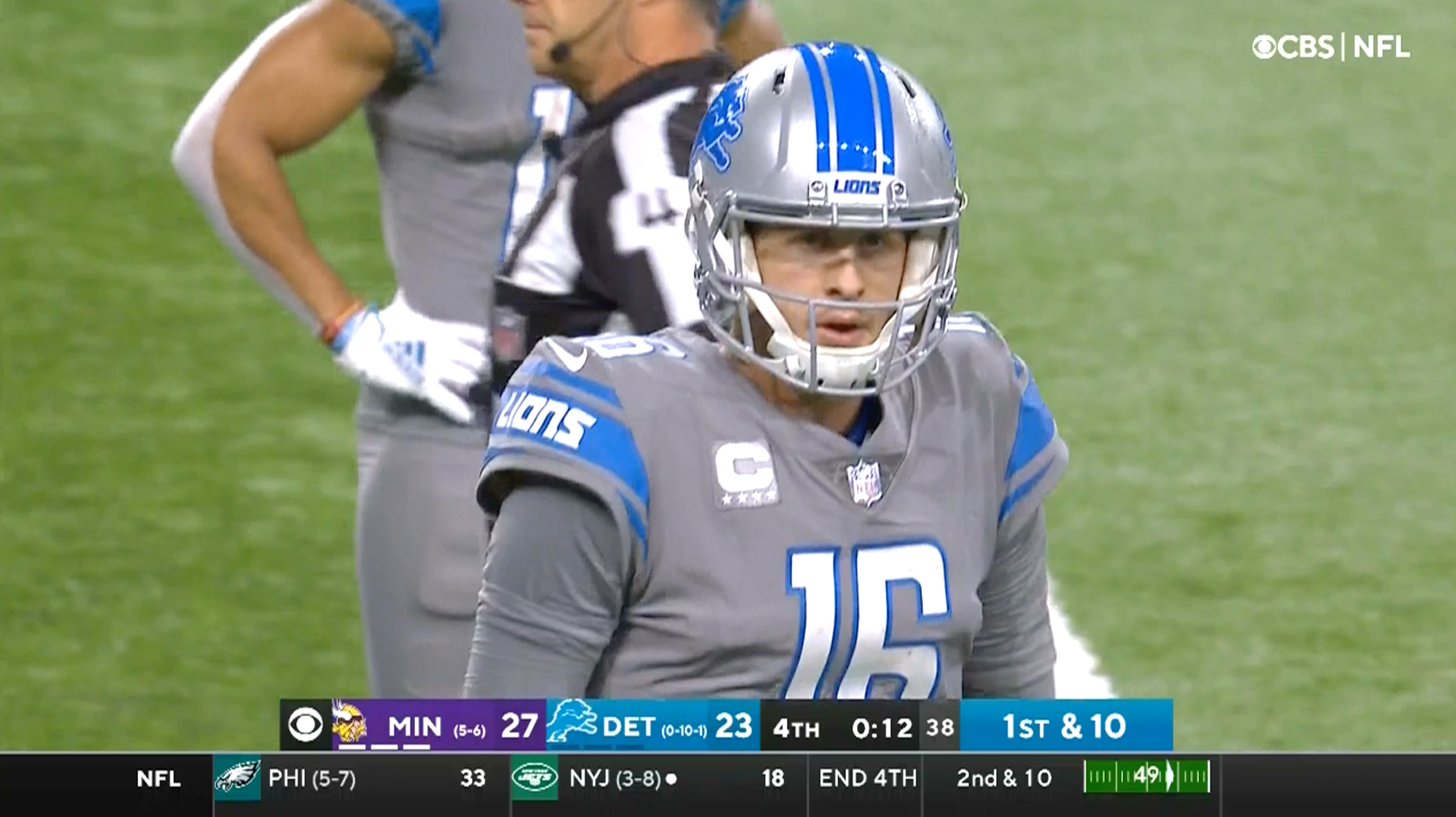 But the kicker, Patterson, would not be the player who finally determined the Lions' fate this Sunday. That role would instead fall to quarterback Jared Goff, the player who has most inspired my quixotic desire to see the 2021 Lions win just once. In an offseason trade between the Lions and the Los Angeles Rams, Goff was shipped to Detroit in a quarterback-for-quarterback swap with Matthew Stafford. As Stafford put up big numbers for L.A. this season (especially early on), the TV networks have harped on the narrative that getting rid of Goff was the brilliant masterstroke the Rams needed—Goff bad, Stafford good.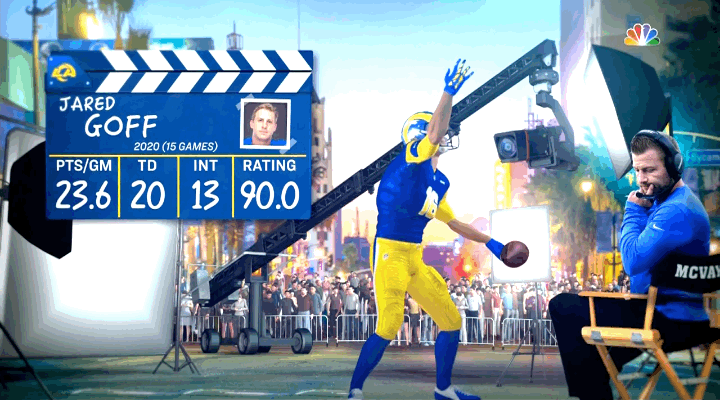 The above Sunday Night Football graphic from Week 9 is emblematic of this relentless storyline: It depicts fickle Rams coach Sean McVay as a film director losing interest in Goff and then "recasting" the quarterback role, reacting with nipple-stiffening delight at the flexes and showboating of Stafford. Goff led the Rams to a Super Bowl three seasons ago; now he features in heartless graphic sequences in which he gets the literal hook. It's not that this characterization of events is false—Goff's play has indeed been underwhelming since that Super Bowl year—but the matter-of-fact cruelty and relentless regurgitation of the narrative deepened my sympathies for the poor guy. I wanted to believe that someday, the game of pro football might once again allow Goff to taste just a soupçon of happiness.
This fleeting moment of recaptured glory did not appear to be in the cards for Goff as Sunday's Lions-Vikings game drew to a close. The Vikings scored two touchdowns in the fourth quarter to take a 27-23 lead; the Lions got the ball back needing to drive 75 yards in under two minutes. It was all lining up for another disappointment. Yet a frantic, choppy effort by Goff and his receivers brought the offense to the 11-yard line with four seconds remaining in the game. It was the kind of scenario in which the Lions routinely find themselves: almost, but not quite, good enough for victory. In the press box, the beat writers were surely putting the finishing touches on their "Lions lose again" recap.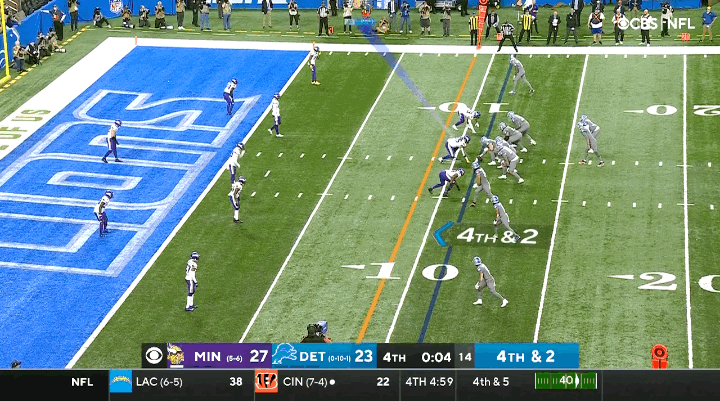 But then: Goff zinged a pass to wide receiver Amon-Ra St. Brown in the end zone. Catch. Touchdown. Pandemonium.
Did your crusty old football columnist shed a tear or two as Jared Goff sprinted to the sidelines to hug his coach? I'm not ashamed to admit I did. It's easy to characterize the Lions' win as meaningless in a competitive sense—the outcome of the Lions' season was already a foregone mathematical conclusion, and the mid-tier Vikings were not likely destined for playoff glory themselves. But all of sports is a contrivance; it possesses only the meaning we choose to invest in it. The meaning I chose to invest in the picture of giddy Lions piling on each other after the final play was that of youth recaptured. The reward for improving their record to the objectively dismal 1-10-1 was that, for a few moments, even the losing-est players in the league got to feel like carefree kids again. And so did I, the vicarious home viewer, which I suppose was the sensation I sought all along as I kept tabs on Detroit this season—a moment of youth. This is silly and immature, perhaps. But the upshot is that my investment in the 2021 Lions paid off exactly as I'd hoped. How many fans can say the same? Glory is in the eye of the beholder.
Week 14 Most Unwatchable Game Preview: New Orleans Saints vs. New York Jets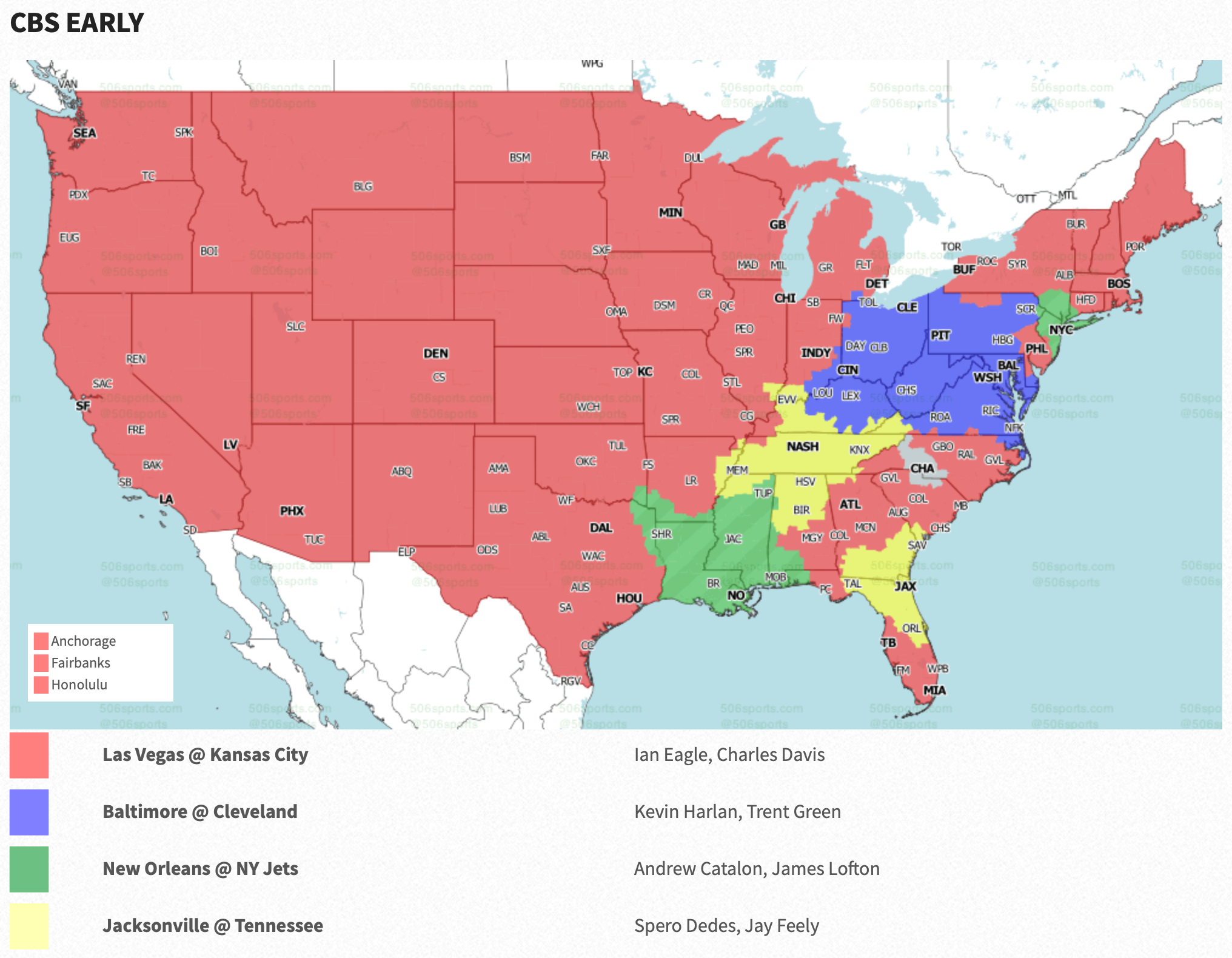 Once again, Doink-O-Rama turns to the TV coverage maps provided by 506sports.com to determine which game the networks are most eager to hide from the viewing public. It's a tough call this week: You could make a case for Jacksonville-Tennessee as the Week 14 dud, as CBS has confined it to a couple of modest yellow splotches covering the teams' home bases and little more. (Atlanta-Carolina is also pretty tightly constrained on 506sports' map of Fox's broadcast schedule, not pictured here.) But I'm amused by the tiny patch of the Northeast afforded to the New Orleans-New York matchup, with the programming team at CBS concluding—correctly—that the Jets' local appeal is so limited, most of the surrounding area would rather watch a game featuring two teams who don't even hail from the same time zone. Therefore, the New Orleans Saints (5-7) vs. the New York Jets (3-9) is Doink-O-Rama's official Most Unwatchable Game of Week 14, and here is your preview of the matchup.
Long snapper report: Zach Wood vs. Thomas Hennessy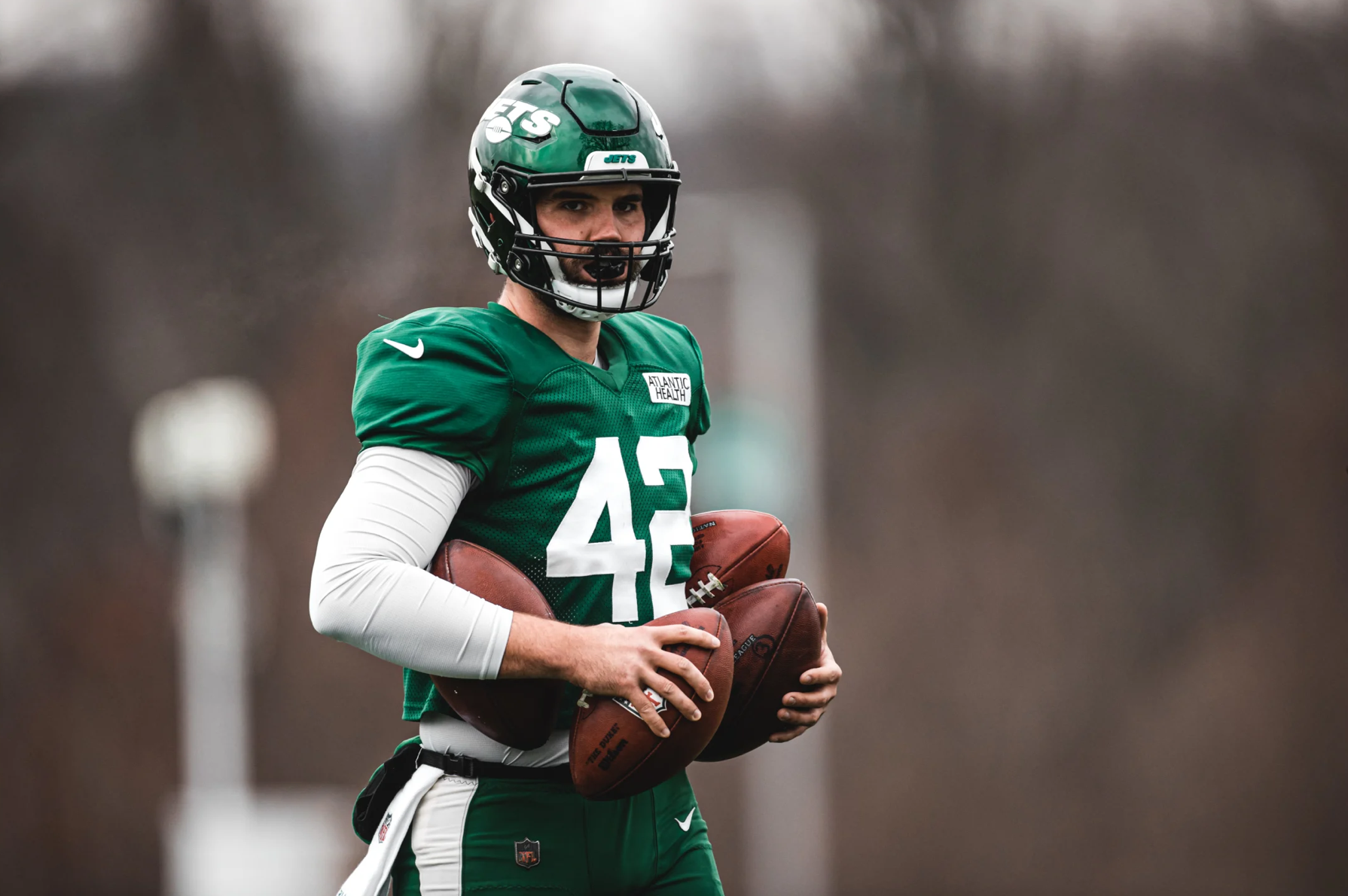 New York Jets long snapper Thomas Hennessy takes nothing for granted. Your typical long snapper practices their craft with a single football, like a chump. Not Hennessy. As you can see this photo from the Jets' practice this week, Hennessy believes that if you can master the challenge of long-snapping four footballs, then long-snapping just a single football is a cinch.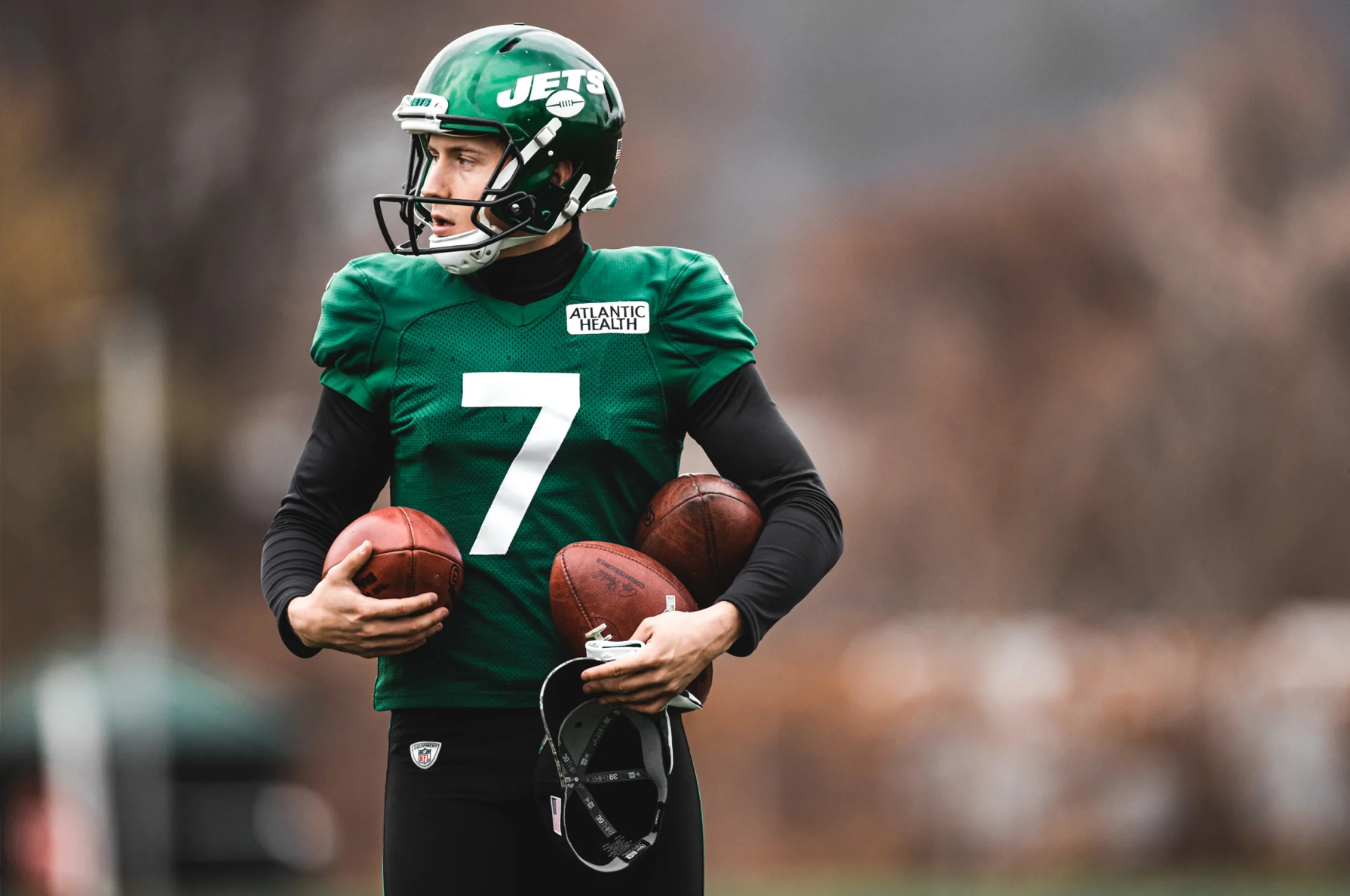 Here we see Jets punter Braden Mann trying to get into the act, too. But look again, Braden: One of your footballs is actually a hat. It's all in the details!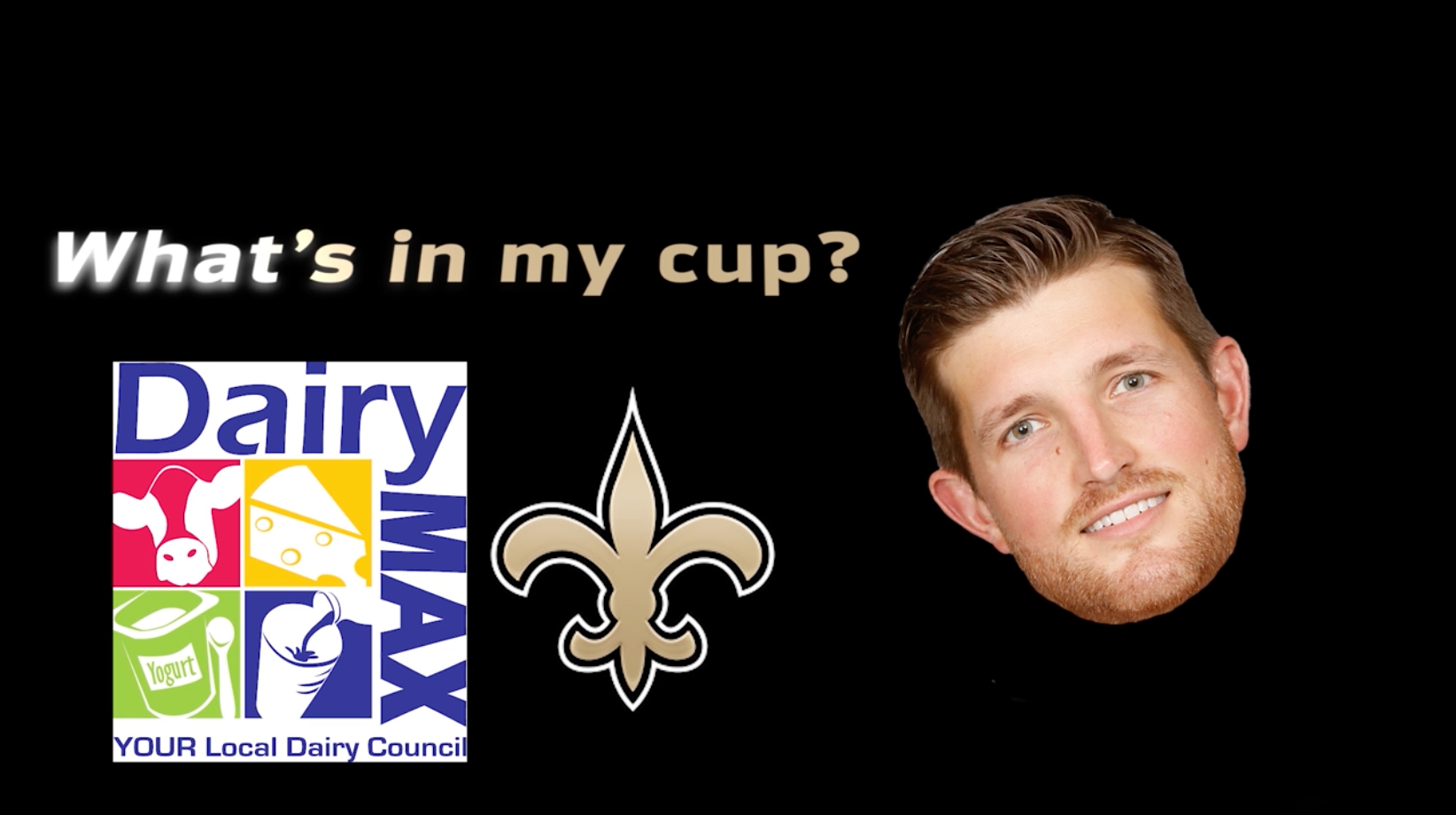 The Saints don't post practice photos, so it's hard to judge how many footballs their long snapper, Zach Wood, uses to prepare himself for a game. In fact, digging through the Saints' website and social media accounts, it's difficult to find evidence that Zach Wood even exists. Maybe Zach Wood is a collective hallucination, and he's only real because we want him to be real. Yet I was able to unearth brief footage of Wood pouring himself a smoothie in an undated promotion for "Dairy Max, YOUR Local Dairy Council."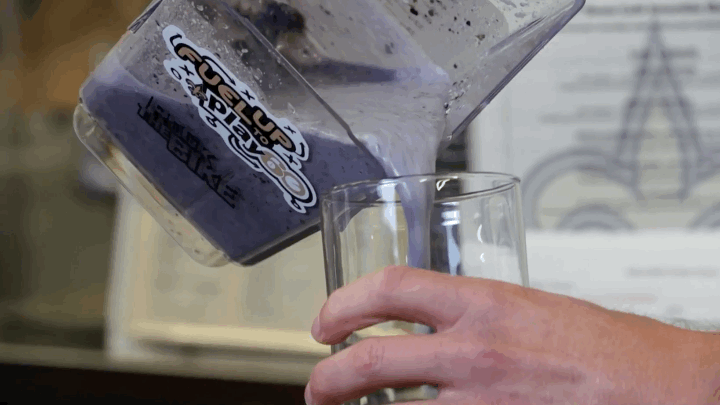 In Wood's video, titled "What's in My Cup?"—they mean the kind of cup you drink out of, alas—Wood reveals what he puts in his daily "Zach Snack" smoothies. The ingredients are bananas, blueberries, kale, oats, protein powder, collagen powder, and—to the relief of the good people at YOUR Local Dairy Council—cow's milk. Yes, you read that correctly. There's not a single football in this entire smoothie. Is this guy playing to win or not? Meanwhile, every morning Thomas Hennessy has already drunk two footballs before he even has breakfast. Advantage: New York.
Head coach penalty-challenge technique: Sean Payton vs. Robert Saleh
For a long time in the NFL, a head coach's only recourse in the face of a bad call by the officials was to stomp their feet and scream, "Wahhh! No fair!" in the face of the nearest person wearing black-and-white stripes. Over the years, the officials got tired of this, especially since many coaches have bad breath. After trying a number of different solutions—Certs, Tic Tacs, Mentos—the league invented the red challenge flag, which allows coaches to voice their displeasure in the form of a rag tied around some beans.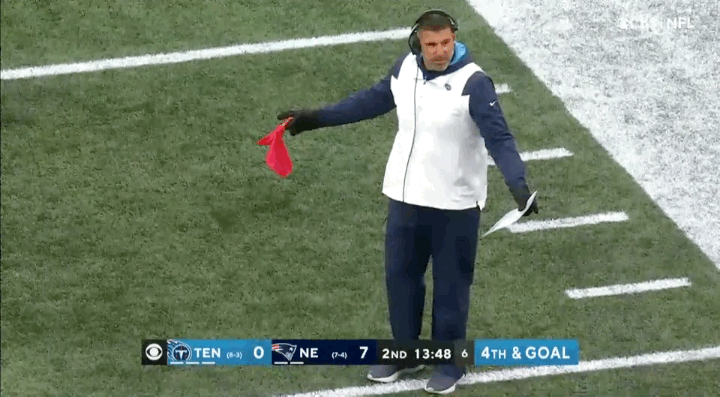 The red challenge flag has become a prominent form of self-expression for the headset-wearing ogres who prowl the sidelines. Take Mike Vrabel, the large and intense head coach of the Tennessee Titans, who earlier this season made waves—gravitational waves—when he violently fired his challenge flag into the ground to contest a play during the Titans' loss to the New England Patriots. Geotechnical engineers in Foxborough are still working to repair the crater Vrabel's fiery throw opened up in the Gillette Stadium playing surface.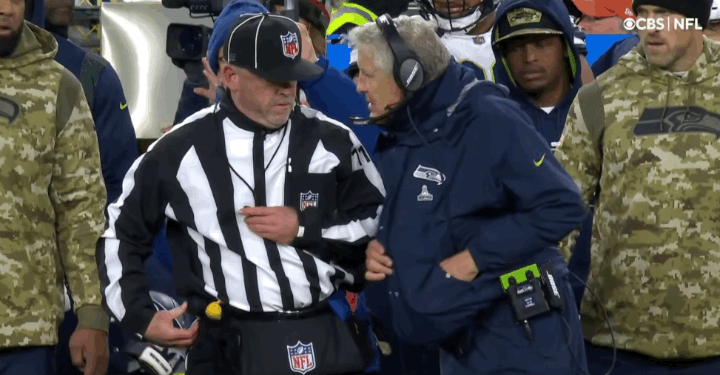 Other coaches have more of a struggle with the seemingly simple challenge-flag mechanics During the Seattle Seahawks' Week 10 loss to Green Bay, after rummaging around in his pockets for a moment, Seattle head coach Pete Carroll threw what looked like a vintage flip phone (later reported to be an electric hand warmer) in lieu of the red flag. The officiating team appeared to decide, "Eh, close enough."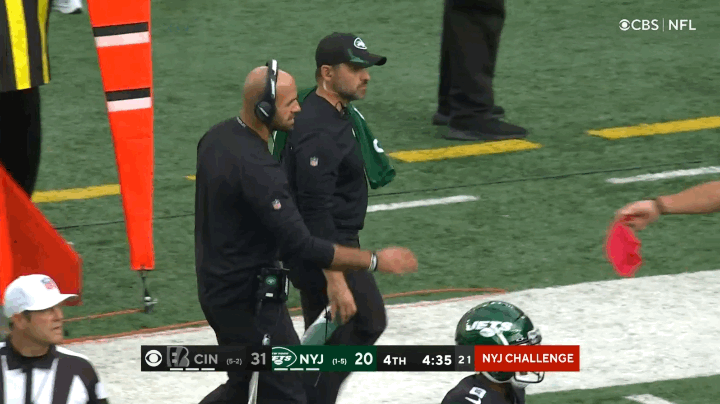 I admittedly haven't gotten a good look at New York Jets head coach Robert Saleh's flag-throwing form per se—I saw him challenge a play in the Jets' game against the Cincinnati Bengals, but the actual flag toss happened off camera. Still, I made note of Saleh's unique follow-up to this challenge, in which he collected his red flag and stalked over to Craig Wrolstad and put his hand on the referee's hip to whisper sweet nothings in his ear—while Wrolstad was still making an announcement over the stadium PA! Wrolstad did not appear to mind Saleh's tender caress. Who would? Saleh won the challenge.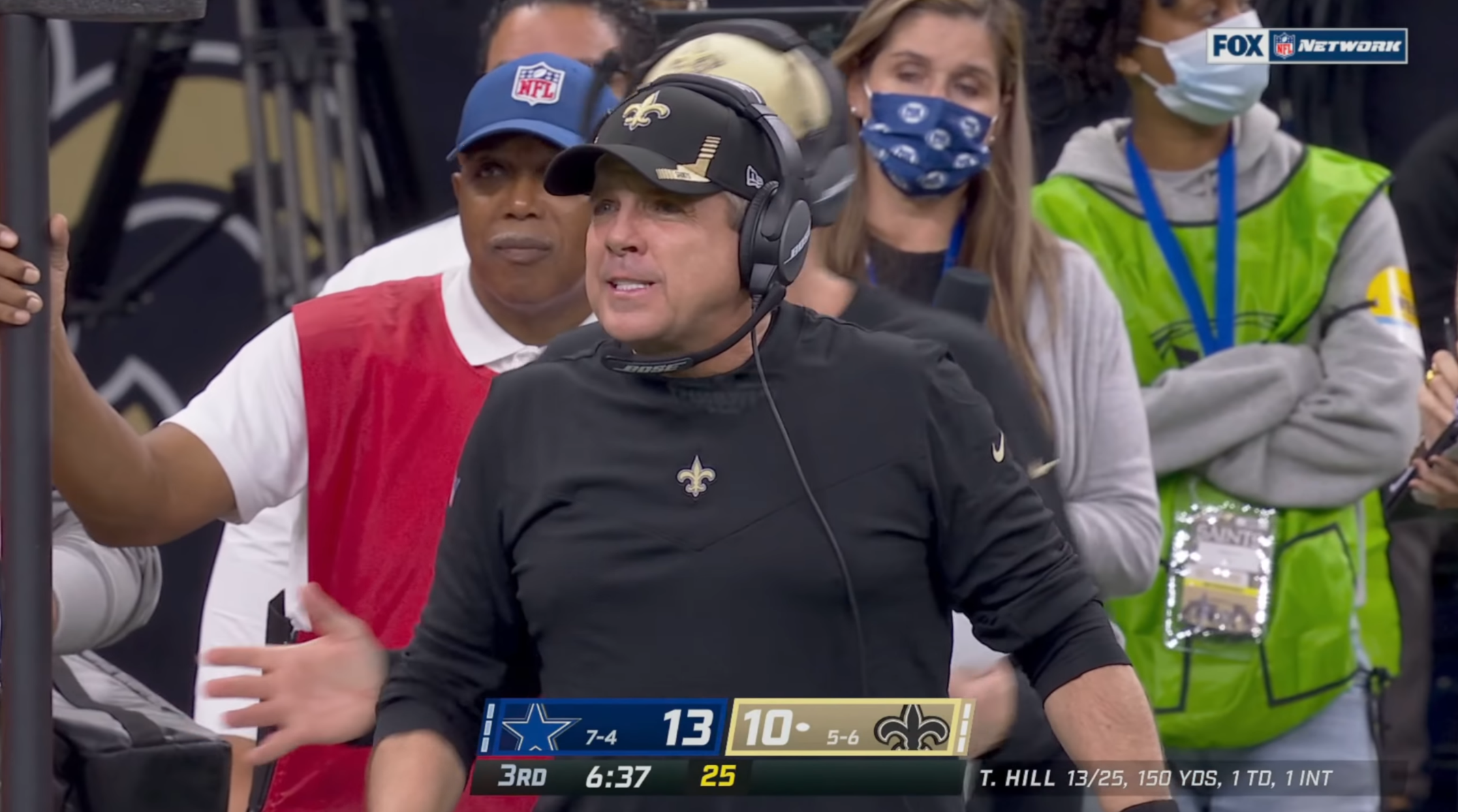 Meanwhile, New Orleans head coach Sean Payton hates the referees, and in all likelihood, the referees hate him, which is why they continue to screw his team on plays that aren't eligible to be challenged at all, like a dubious and costly roughing-the-passer penalty that was called in the Saints' Week 10 loss to the Titans. You can't throw the red flag to challenge a roughing penalty—maybe next time Payton should break out the hand warmer. Advantage: New York.
Your guaranteed-correct Week 14 picks, as computed by DORPFASTCALC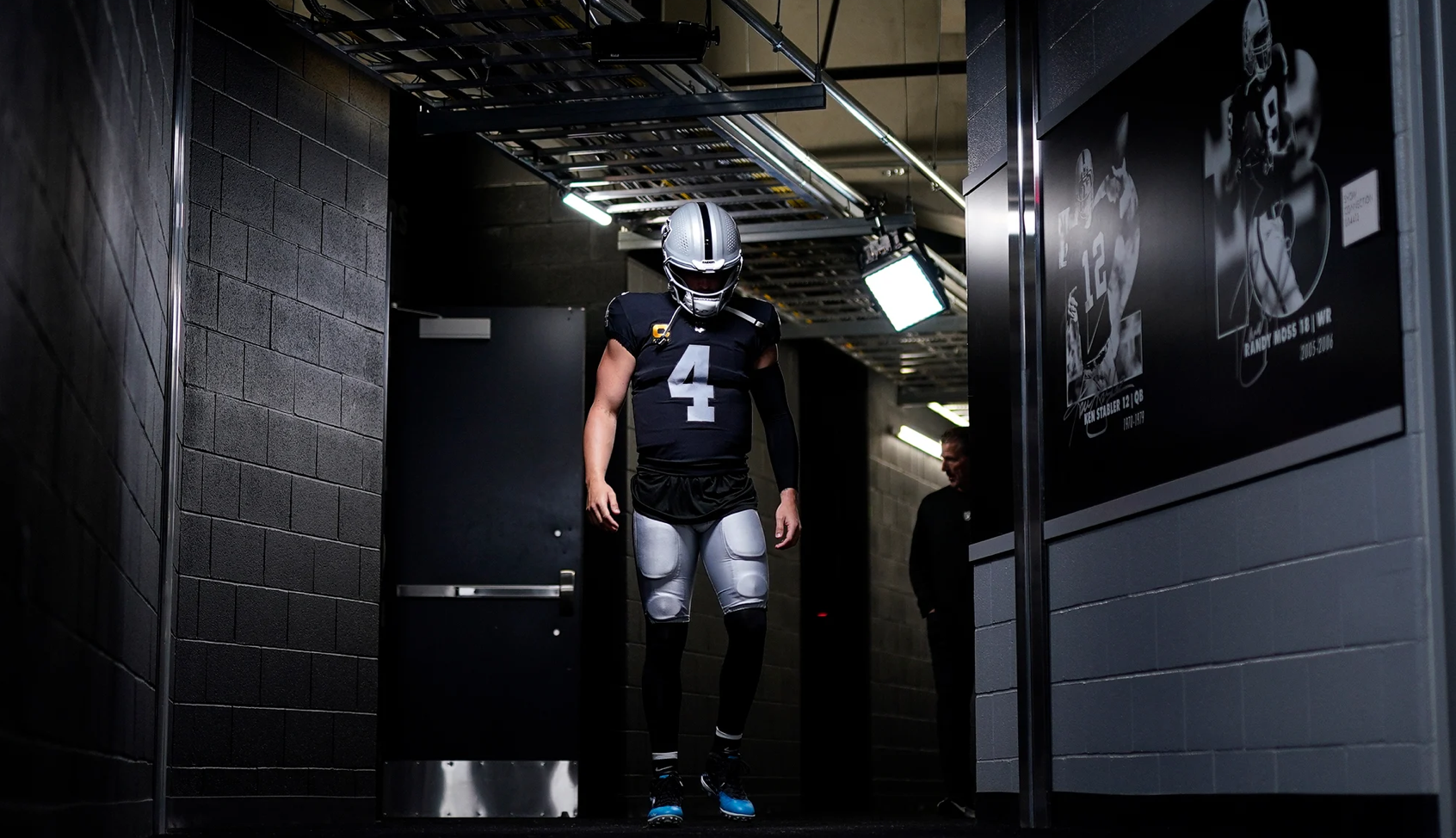 The football picks featured in Doink-O-Rama are guaranteed to be correct, as they are calculated by the Doink-O-Rama Pro Football Anticipation Satellite and Tip Calculator, or DORPFASTCALC.
The origins of the satellite are mysterious and widely debated. In Prof. Marcus Professor's treatise on the history of DORPFASTCALC—The Dorp Heard Round The World (And Beyond Because It's In Space)—Prof. Professor argued that the technology in the device can be traced to a Department of Defense skunkworks project that attempted to manipulate the public's behavior through football broadcasts. But the idea that you could control somebody's mind with messages attached to an NFL game is—just gotta gamble on football before I finish writing this sentence, have an incredible urge to gamble on football right now, getting out my phone to place a bet, aaaand endorphins releasing to the reward centers of my brain… now—ridiculous.
Prof. Professor's theory is not accepted by all. Prof. Ezekiel Professor—no relation—of Tampa Correspondence College is conducting research to verify his hypothesis that DORPFASTCALC was placed in our region of space by aliens who play a version of football purer than you could ever imagine.
In the MGM musical version of DORPFASTCALC, The Fastest Dorp in the Calc, DORPFASTCALC is a slick, scrappy Broadway producer whose only chance to save the local football team is to put on the biggest, best, razzle-dazzlin'est show of his life. But this version of events is not considered canonical.
In its Week 13 picks, true to its ironclad guarantee, DORPFASTCALC correctly predicted the outcome of eight football contests.
Also in Week 13, there were five aberrations—which, coincidentally, was the title of the big second-act solo number in The Fastest Dorp in the Calc:
"Five Aberrations"

Five aberrations? What in tarnation
are these rude insinuations
toward my sporting ruminations?

Forget those football scores!
The thing I want some mores
is to put on the biggest, best, razzle-dazzlin'est show of my liiiiiiife!
It's better when Mickey Rooney sings it, of course.
Week 13: 8-5.
Season to date: 82-72. Science works!
SUNDAY — EARLY GAMES
Dallas Cowboys vs. Washington Football Team (Fox): Dallas 23, Washington 20.
Jacksonville Jaguars vs. Tennessee Titans (CBS): Tennessee 28, Jacksonville 17.
Seattle Seahawks vs. Houston Texans (Fox): Seattle 19, Houston 12.
Las Vegas Raiders vs. Kansas City Chiefs (CBS): Kansas City 27, Las Vegas 20.
New Orleans Saints vs. New York Jets (CBS): New Orleans 30, New York 15.
Baltimore Ravens vs. Cleveland Browns (CBS): Baltimore e, Cleveland √2.
Atlanta Falcons vs. Carolina Panthers (Fox): Carolina 21, Atlanta 20, hypotenuse 29.
SUNDAY — LATE GAMES
New York Giants vs. Los Angeles Chargers (Fox): Los Angeles googolplex, New York googol.
Detroit Lions vs. Denver Broncos (Fox): Denver π, Detroit π2/6.
San Francisco 49ers vs. Cincinnati Bengals (CBS): San Francisco 49, Cincinnati bengal.
Buffalo Bills vs. Tampa Bay Buccaneers (CBS): Tampa Bay 5, Buffalo 4.
SUNDAY NIGHT FOOTBALL
Chicago Bears vs. Green Bay Packers (NBC): Green Bay 23, Chicago 14.
MONDAY NIGHT FOOTBALL
Los Angeles Rams vs. Arizona Cardinals (ESPN): Arizona 35, Los Angeles 27.
Keep on long snappin'
Doink-O-Rama is a free subscription for the foreseeable future. If you want to help me out, share the column with a friend who might like it.
Reach out with your questions, observations, or doink sightings by emailing: doink at ological dot net.
Thank you for reading. Until next week: Keep on long snappin'.