This is Doink-O-Rama, John Teti's column about pro football.
We head straight to the picks this week, friends, as I require a little breather from the full column before the stretch run. But in the Christmas spirit, I rifled through the many (too many) video clips I've obsessively captured over the first 14 weeks of the season and picked out a handful of stocking stuffers—i.e., inane moments from the periphery of the broadcast that perhaps only I find amusing. But maybe you too! You may get lucky. The full logorrhea returns next week! Happy football!
Your guaranteed-correct Week 15 picks, as computed by DORPFASTCALC
The football picks featured in Doink-O-Rama are guaranteed to be correct, as they are calculated by the Doink-O-Rama Pro Football Anticipation Satellite and Tip Calculator, or DORPFASTCALC.
In its Week 14 picks, true to its ironclad guarantee, DORPFASTCALC correctly predicted the outcome of 10 football contests.
Also in Week 14, there were three aberrations, which the DORPFASTCALC operations team attributes to solar wind (although it was more of a solar breeze). In any case, criminy! That's a low aberration rate. If only there were a way to profit from DORPFASTCALC's robotic brilliance. But as far as I know, it is not possible to wager on the outcome of football games. Let me know if you hear otherwise.
Week 14: 10-3.
Season to date: 92-75. Science works!
SATURDAY GAMES
Las Vegas Raiders vs. Cleveland Browns (NFL Network, CBS locals): Cleveland 28, Las Vegas 20.
New England Patriots vs. Indianapolis Colts (NFL Network, CBS locals): New England 34, Indianapolis 14. The Patriots' run offense will face a stiffer challenge from the Indianapolis Colts than it did earlier this season from the Los Angeles Chargers, when the L.A. defense was averaging, according to CBS announcer Ian Eagle, "five-point-fart yards per carry." Ian Eagle isn't saying that Los Angeles' run defense stinks—he's just saying "fart."
SUNDAY — EARLY GAMES
Dallas Cowboys vs. New York Giants (Fox): Dallas 31, New York 21.
Houston Texans vs. Jacksonville Jaguars (CBS): Houston 2, Jacksonville 0.
Tennessee Titans vs. Pittsburgh Steelers (CBS): Tennessee 27, Pittsburgh 23.
New York Jets vs. Miami Dolphins (CBS): Miami 17, New York 13.

Washington Football Team vs. Philadelphia Eagles (Fox): Philadelphia 21, Washington 20. I realize there may be a perfectly good explanation here, but since I'm not a bearded truck guy—my main experience with trucks like this one is wishing they would stop tailgating me on the interstate—I'm going to ask: How come the guy in the DieHard commercial doesn't just put reliable, strong-like-ox DieHard Platinum batteries in his actual truck? "Whew, DieHard saves me again from that crummy Battery™-brand battery! If only there were a better way."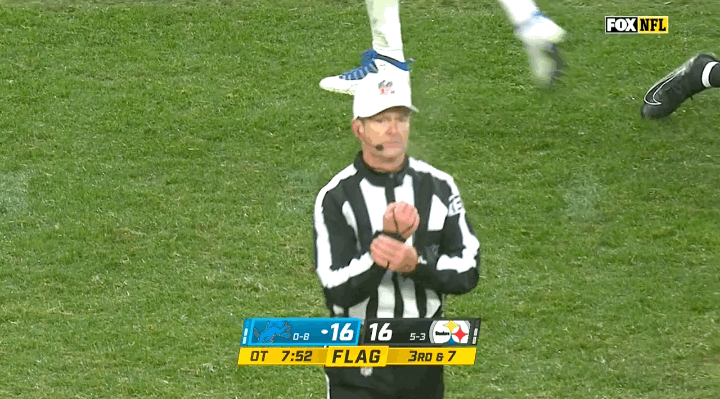 Arizona Cardinals vs. Detroit Lions (Fox): Arizona 35, Detroit 14. The referee assigned to this game is Land Clark, whose officiating style I have grown to appreciate this season. Whereas other officials aim to project an air of authority, and even a touch of showmanship, Land Clark always looks like he could not possibly give a shit. Clark's day job is chief building official for the city of Albuquerque, and you can tell he brings that ground-down, local-government-bureaucrat energy to every call on the field. Clark is pictured above announcing a holding call during overtime of the Week 10 Detroit-Pittsburgh contest, with every inch of his body language and facial expression communicating the message, "I just want this game to be over." (In fairness, that was a unanimous sentiment in the stadium.)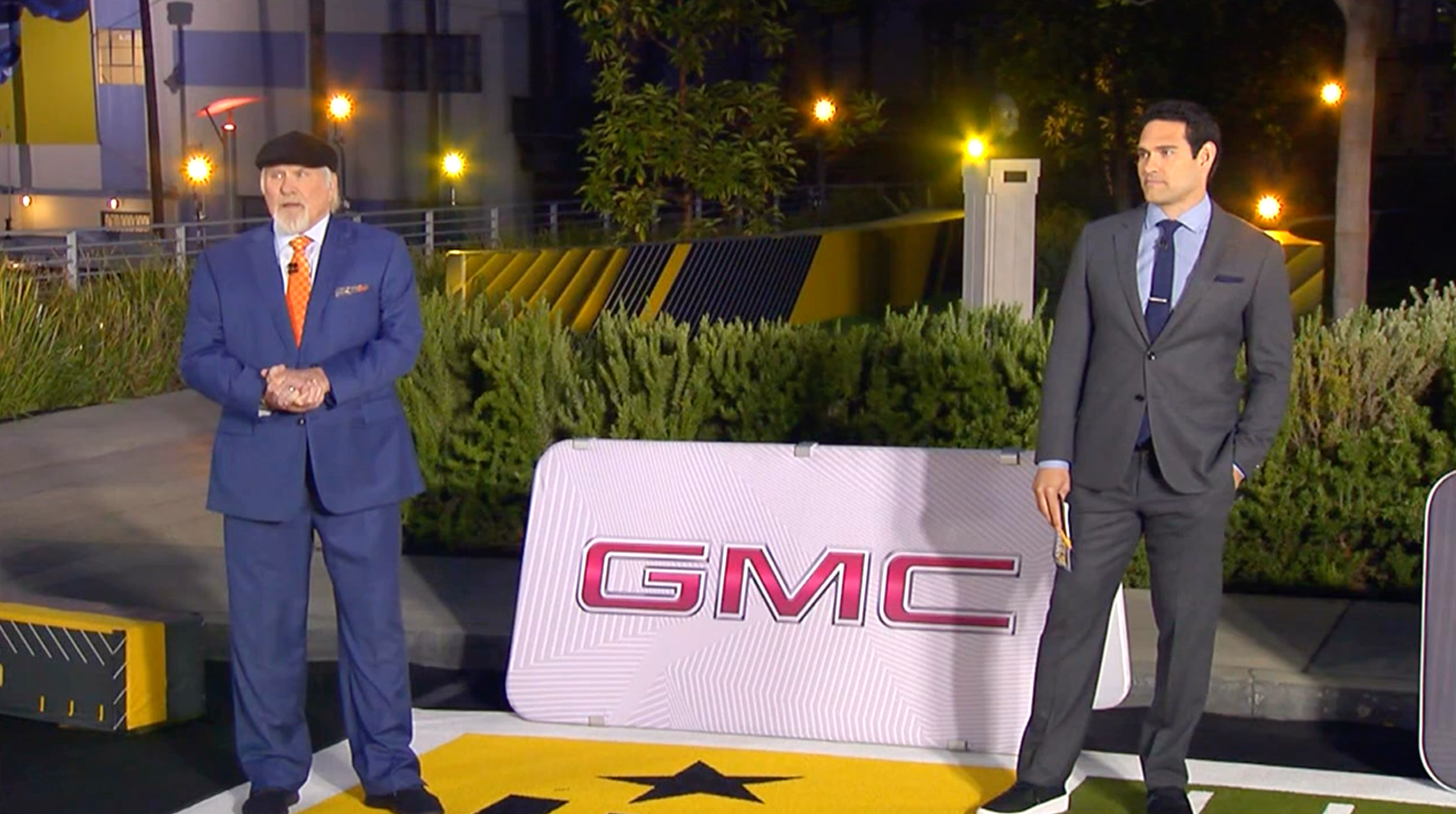 Carolina Panthers vs. Buffalo Bills (Fox): Buffalo 20, Carolina 13. Fox analysts Mark Sanchez (the tall drink of water on the right) and Terry Bradshaw (the half-collapsed kids' bouncy castle on the left) are the Goofus and Gallant of wearing a suit on television.
SUNDAY — LATE GAMES
Cincinnati Bengals vs. Denver Broncos (CBS): Denver 18, Cincinnati 17.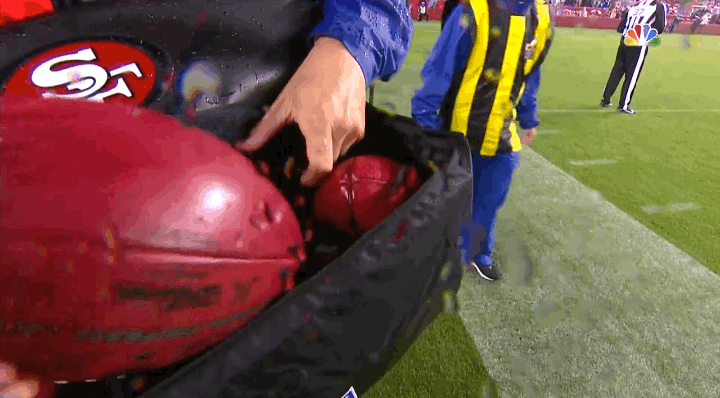 Atlanta Falcons vs. San Francisco 49ers (CBS): San Francisco 24, Atlanta 23. During a rain-drenched 49ers home game earlier this season, Sunday Night Football did a deep dive into the processes and procedures that the National Football League to keep the footballs as dry as possible. The short version of the story is, they use a towel. The long version is, they … use … a … towel.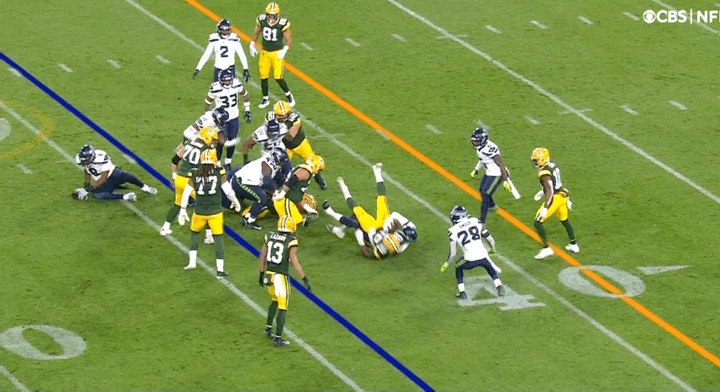 Seattle Seahawks vs. Los Angeles Rams (Fox): Los Angeles 28, Seattle 19. My favorite penalty of the season so far was issued to Seattle Seahawks defensive end Carlos Dunlap, who earned an unsportsmanlike conduct foul for throwing a shoe. (The shoe belonged to Green Bay Packers offensive lineman Billy Turner, who lost it during the play and wanted it back.) It may sound like an overreaction by the officials, but Dunlap really gave that shoe the business. The short-term cost of the lost yardage may have been worth it for the long-term intimidation factor—the next footwear that crosses paths with Dunlap will certainly think twice before, uh, being a shoe, in his vicinity.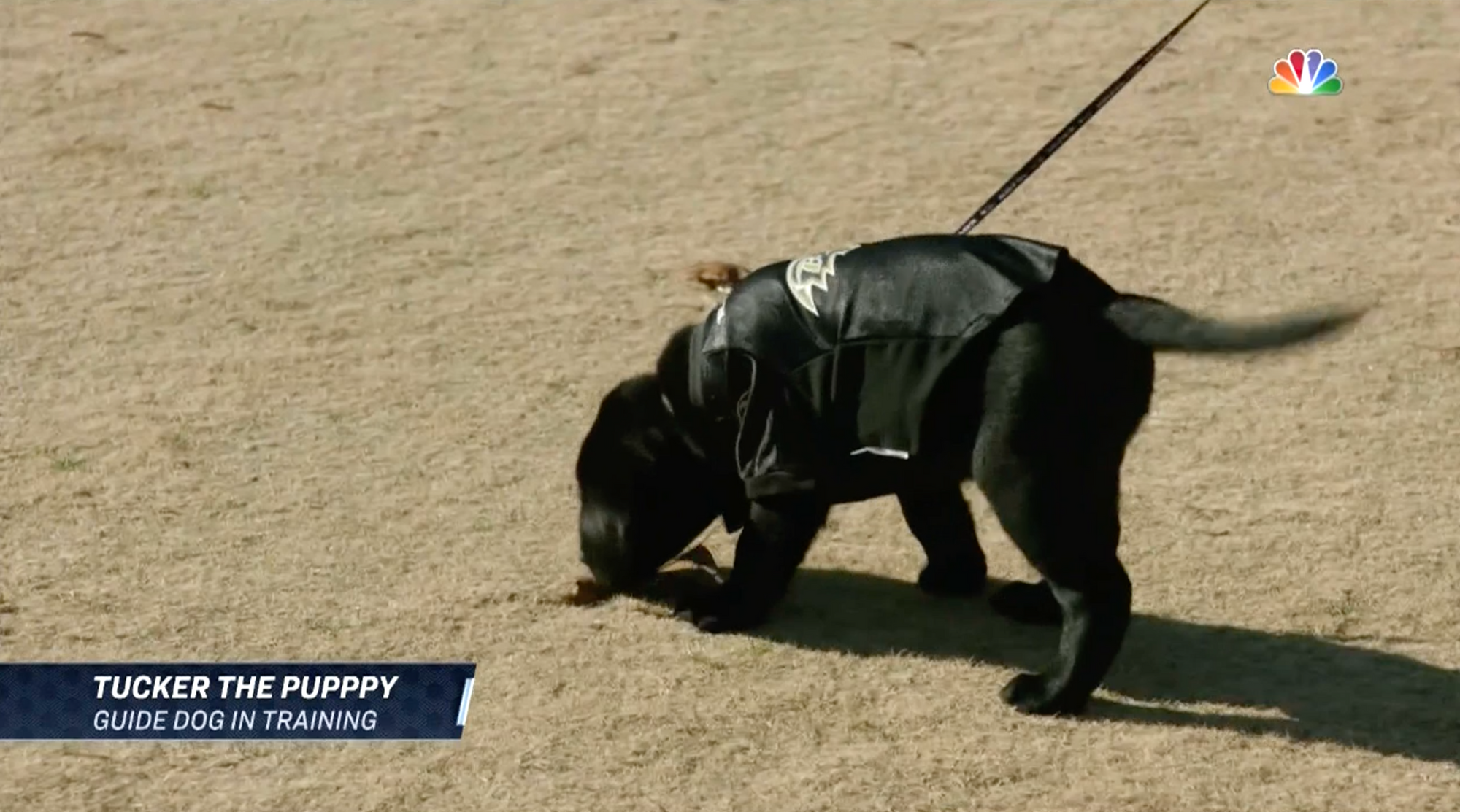 Green Bay Packers vs. Baltimore Ravens (Fox): Green Bay 37, Baltimore 27. In case you missed it, a few weeks back, NBC introduced us all to Tucker the Pupppy, a Baltimore-based guide-dog-in-training who was named after all-star Ravens kicker Justin Tucker. It was an appproppriate tribute to the accuracy and pprecision of Baltimore's famed sppecial-teamer.
SUNDAY NIGHT FOOTBALL
New Orleans Saints vs. Tampa Bay Buccaneers (NBC): Tampa Bay 41, New Orleans 27.
MONDAY NIGHT FOOTBALL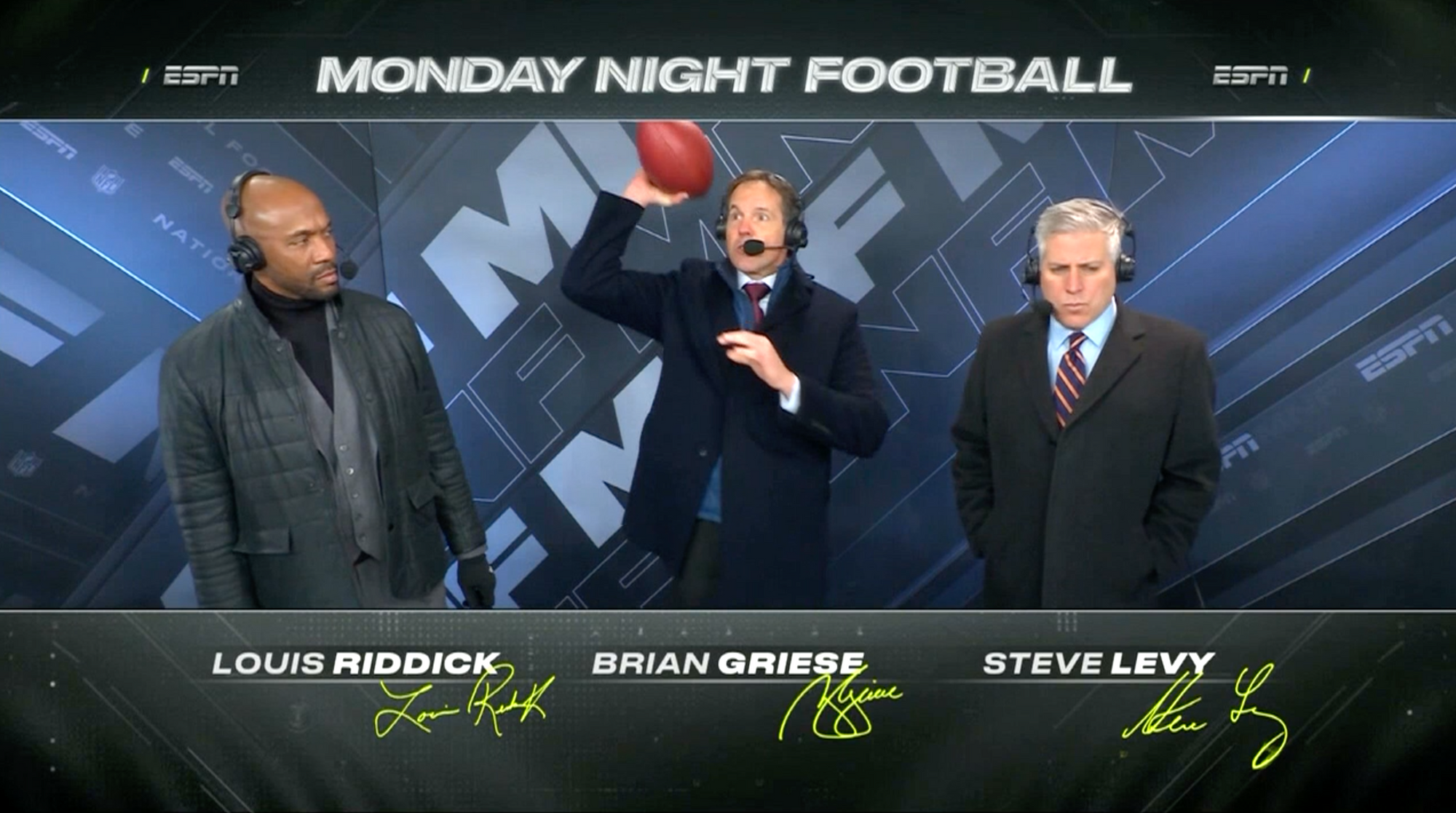 Minnesota Vikings vs. Chicago Bears (ESPN): Minnesota 23, Chicago 20. Of all the questionable aesthetic choices in the current revision of the Monday Night Football production, the most cringe-inducing for me is the practice of placing neon autographs next to the names of its on-air talent. I suppose it's supposed to make the telecast feel more cool and elite, but the fact is, having a Steve Levy autograph on your TV actually reduces its value.
Keep on long snappin'
Doink-O-Rama is a free subscription for the foreseeable future. If you want to help me out, share the column with a friend who might like it.
Reach out with your questions, observations, or doink sightings by emailing: doink at ological dot net.
Thank you for reading. Until next week: Keep on long snappin'.