This is Doink-O-Rama, John Teti's column about pro football.
Holiday shopping is a more fraught experience than ever this year, as the collapse of the global supply chain means that any gifts you order will take an especially long time to arrive, if in fact they arrive at all. You can certainly shop locally, and Doink-O-Rama endorses this practice, although your local store is dealing with the same busted infrastructure, so typically the only gifts they will have in stock are a handful of lint rollers and some leftover Microsoft Zunes.
Luckily, the NFL marketing machine is a force that transcends the normal dynamics of modern capitalism. Thanks to outlandish markups and a fanbase whose loyalties are easily exploited, the league and its countless licensees enjoy the freedom to produce an endless deluge of football items without any consideration for the items' practicality or appeal. Indeed, the rarefied conditions of the NFL cartel allow the league to create goods that could not exist in any properly functioning consumer market. To prepare you for a Black Friday shopping spree, I have waded through the official stores of the 32 NFL teams, unearthing the choicest gems from their unimaginably vast bounty of crap. Each of these gifts is the perfect way to tell someone you love, "They were all out of Zunes."
Not at all embarrassing magazine cover featuring Jacksonville Jaguars quarterback Trevor Lawrence — $400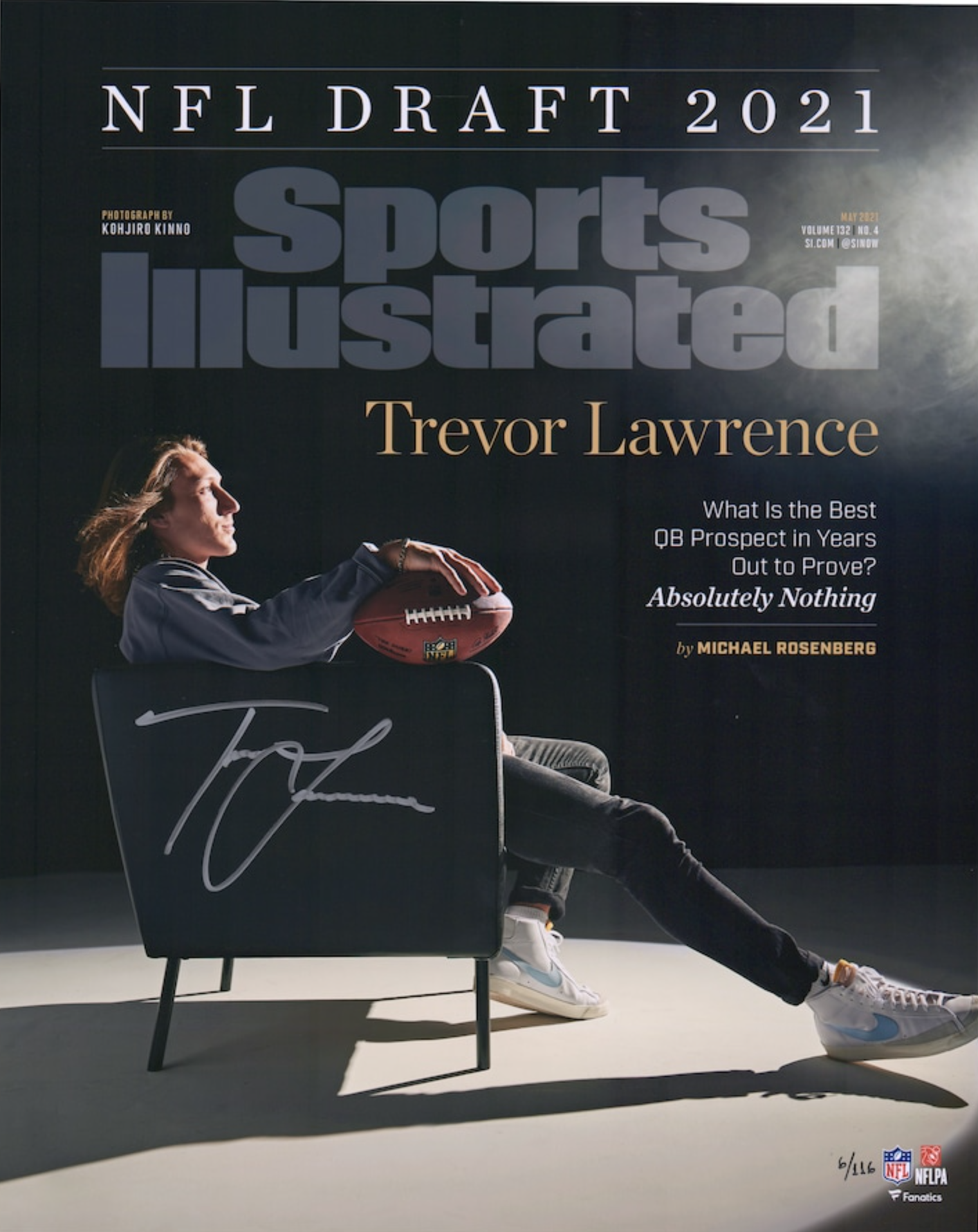 "What Is the Best QB Prospect in Years Out to Prove? — Absolutely Nothing," asserts this Sports Illustrated cover, and as the rookie quarterback of the 2-7 Jacksonville Jaguars, Trevor Lawrence has accomplished exactly that. The guy never met a whelm he couldn't under! And now you can commemorate the historic moment from a few months ago when, given their choice of all the college football players in the entire world, the Jaguars chose him.
This limited-edition, autographed collectible recreates a May 2021 issue of Sports Illustrated for those who might have missed it the first time, because, unless you were a person at an airport or an uncle in May 2021, you probably didn't read this Sports Illustrated. But no problem, right? You can just buy it now!
Heh—now, hold on a minute there, partner. The market for Trevor Lawrence magazine covers has changed a bit while you were away. Sure, at one time you could have acquired this glossy artifact for a mere sawbuck from the Hudson News of your choice, with enough change left over for a pack of peanut M&Ms. That was then. Now? Let's just say I don't think you're gonna be able to afford those M&Ms. Maybe you should have gotten in on the ground floor of this here quarterback—before he won all those two games.
The spartan art direction of the cover seems to imagine the slouching Lawrence as the guy from the 1980s Maxell ads. Instead of being blown away by the incredible sound fidelity of his preferred audiocassette brand, however, Lawrence sits in speechless awe of his own future. (His future in what? Football. There's a football there to remind him in case he forgets.) If, like Trevor Lawrence, you weren't alive in the 1980s, just understand that, at one time, the champagne-catching tape-hiss enthusiast in the commercial above was considered about as cool as you could possibly get. Everybody wanted to be like the fellow with a just-out-of-frame industrial fan blowing in his face. And now, for $400, you can have a picture of Trevor Lawrence sort of living that dream.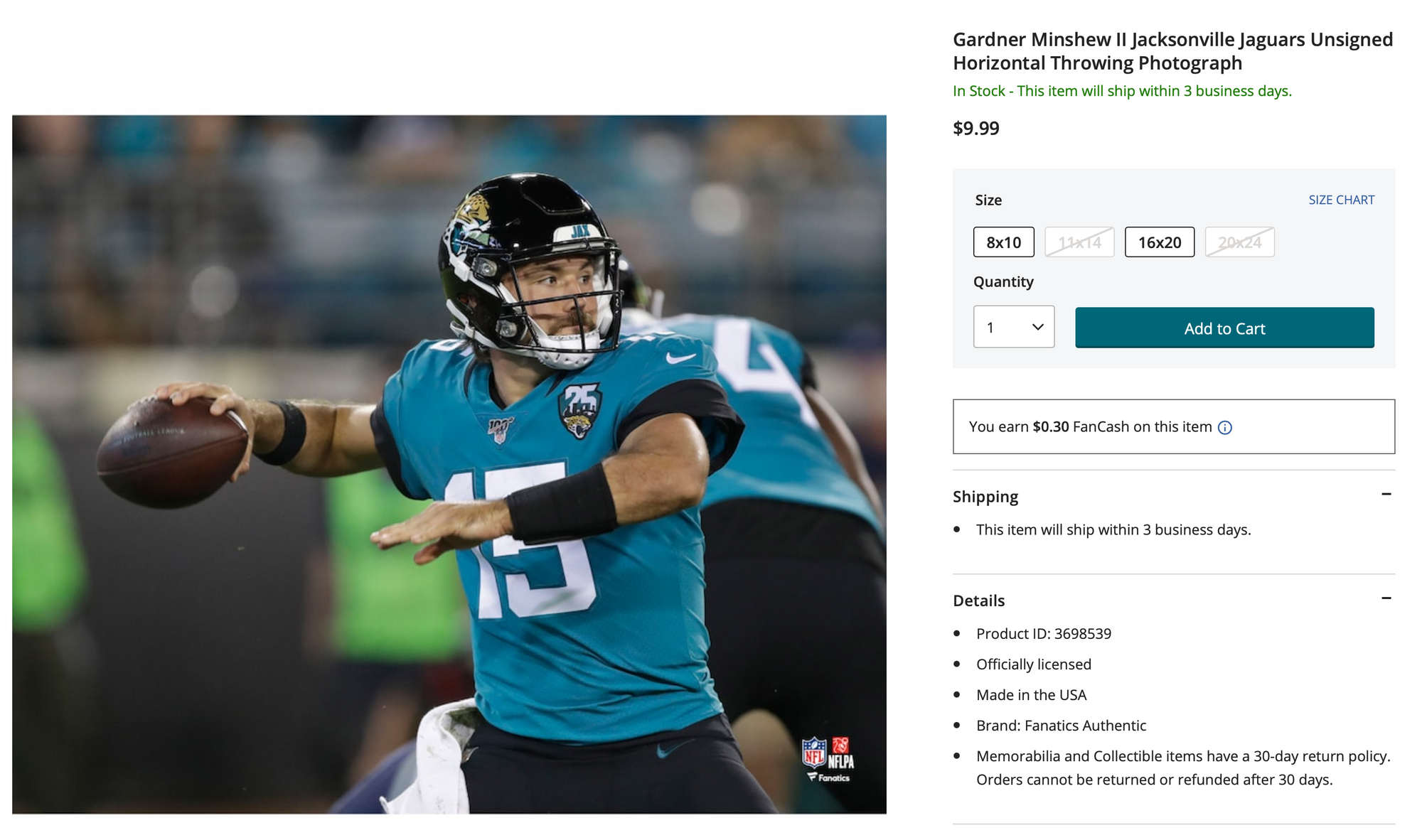 If you can't afford the Trevor Lawrence photo, this old picture of Gardner Minshew is a steal at $10. "Gardner Minshew II Jacksonville Jaguars Unsigned Horizontal Throwing Photograph," reads the official title of the listing, which leaves me without much to say about this particular item. I could mention that it's horizontal—no, wait, they already covered that. Hmm. The picture shows him throwing—oops, damn, they beat me to that, too. You know what, forget it. The search-engine-optimization algorithm stole all my takes.
Rope-mounted plank claiming that all you need is Tennessee Titans football and your dog — $15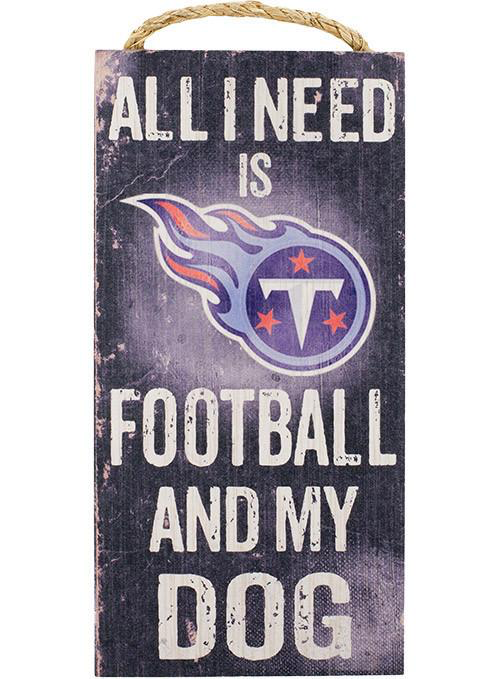 It's happened to all of us. You're stretched out on the recliner, sipping your can of Sterno as you enjoy another Sunday afternoon in front of the television set. "Ahh, all I need is Tennessee Titans football," you muse contentedly. You hear a rustling in the corner, and you realize—oh, shit, the dog was sitting right there the whole time. Your dog stares at you with a shattered look on his face, his stupid dog face that does not understand you were speaking figuratively. "Only Titans football? What about me?" your dog says. Now you have two choices. You can lay off the Sterno, on account of your dog is talking. Or you can clarify your remarks by way of a $15 rectangle of plywood, complete with imitation rope. Not only does it clear up the emotional situation for your needy pooch, it also will add to the aesthetic appeal of your home, or at least it would if you weren't blind from Sterno. Kids, let this be a lesson to you: Whimsical signs make a great holiday gift.
Bunch-of-broken-stars Dallas Cowboys tapestry — $48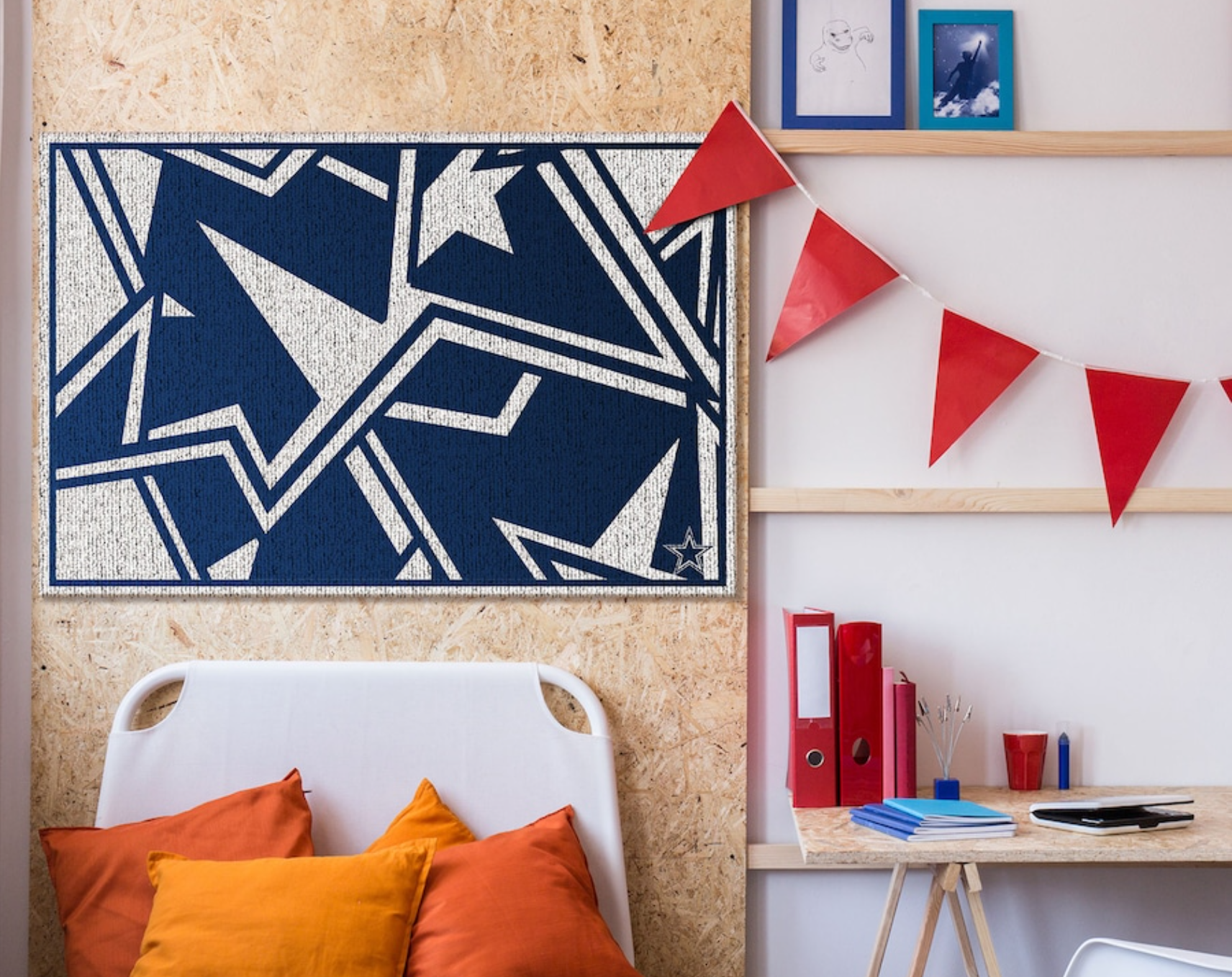 Sometimes, when one of those blue-and-white Dallas Cowboys stars comes out of the oven, it's not quite right. For decades, these misbegotten stars would simply be tossed on a scrap heap and sent to a landfill. This eco-conscious gift comes up with an earth-friendly solution to this waste: Why don't you take some of these broken stars and put 'em on your stupid wall, ya jerk?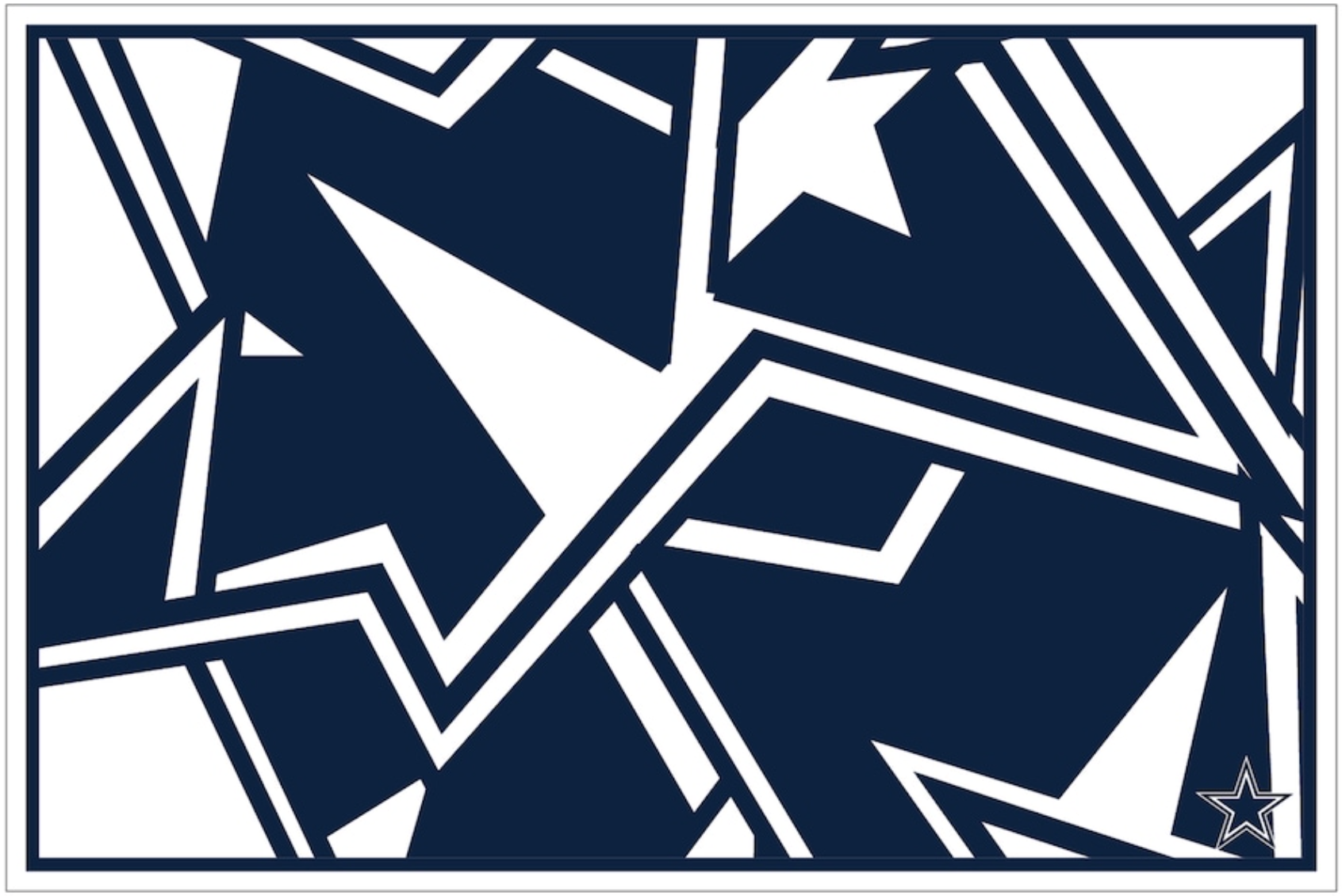 In the lower-right corner of each tapestry you'll find an intact Dallas Cowboys star to show you what the star is supposed to look like. But remember, you don't deserve those nice, five-pointed stars, do you, scum? No, instead you get this nylon mindfuck that purportedly "was designed by Team Quicksnap, the winner in a student design competition held by the National Football League and Fashion Institute of Technology." That description implies that actual humans were involved in the generation of this image, and I'm sure they were, to the extent of typing "Dallas Cowboy star tapestry" into one of those artificial-intelligence text-to-image generators. Look, I can do it too: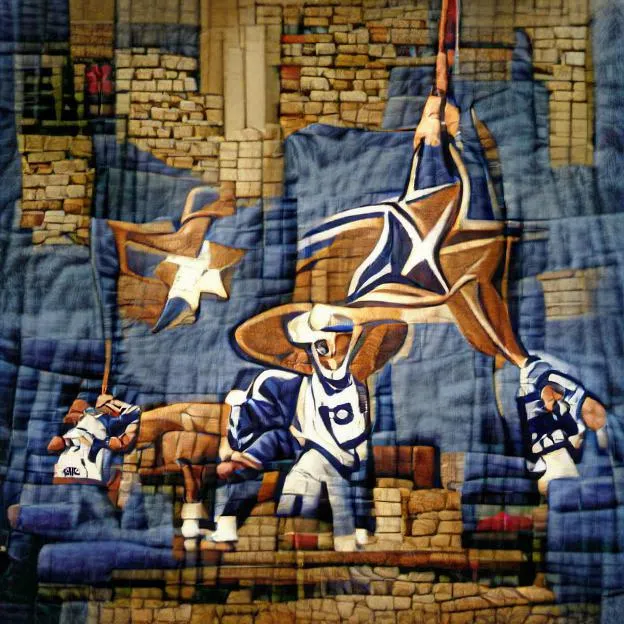 What do I win?
New England Patriots cheerleader T-shirt for toddlers — $9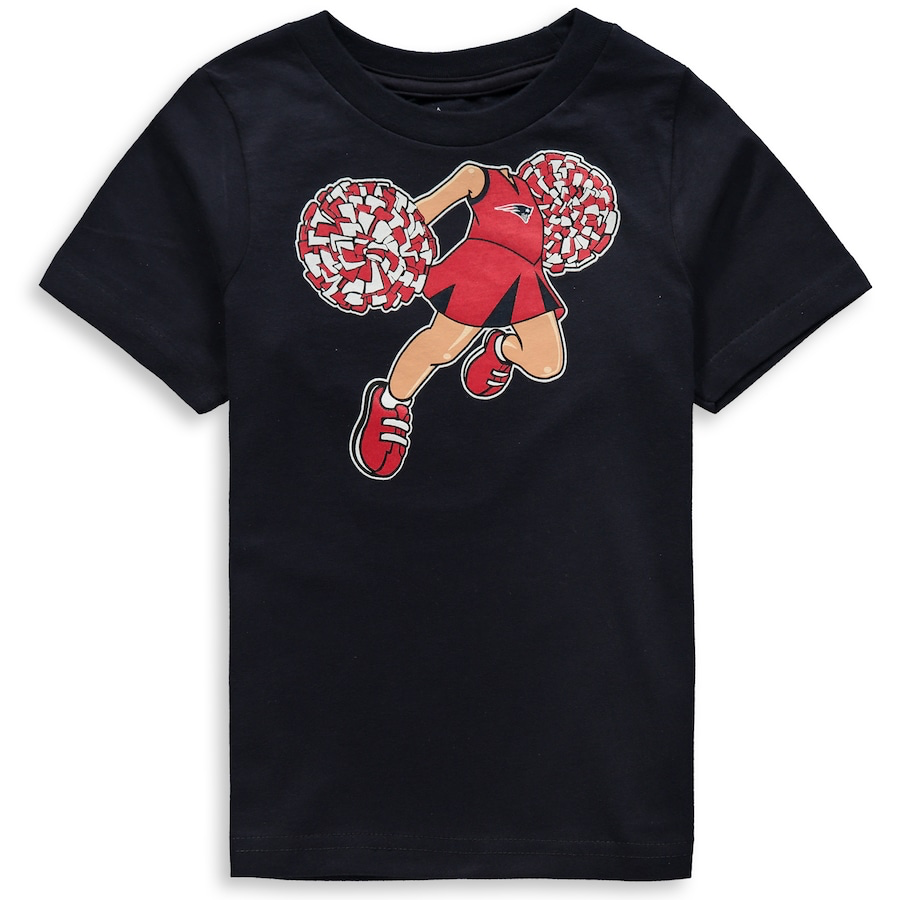 Your daughter, niece, or local clothing drive will be so excited to receive this Patriots cheerleader T-shirt, they'll hardly even notice that oh God there's no head on that person, oh God oh God why does this exist, oh God. With lively team colors and a pair of whimsical pom-poms, but no head where is the head what happened to her head, this all-cotton T-shirt is sure to delight the little Patriot Fan in your life! Sturdy construction means this shirt will last the whole season (as long as you follow the fabric care instructions printed on the what happened to that little girl's head). Available in sizes 2T, 3T, tell me I'm not crazy, we're all seeing that the cheerleader has no head right?, and 4T.
Ice cream scoop with a handle made from old Lambeau Field seats —$150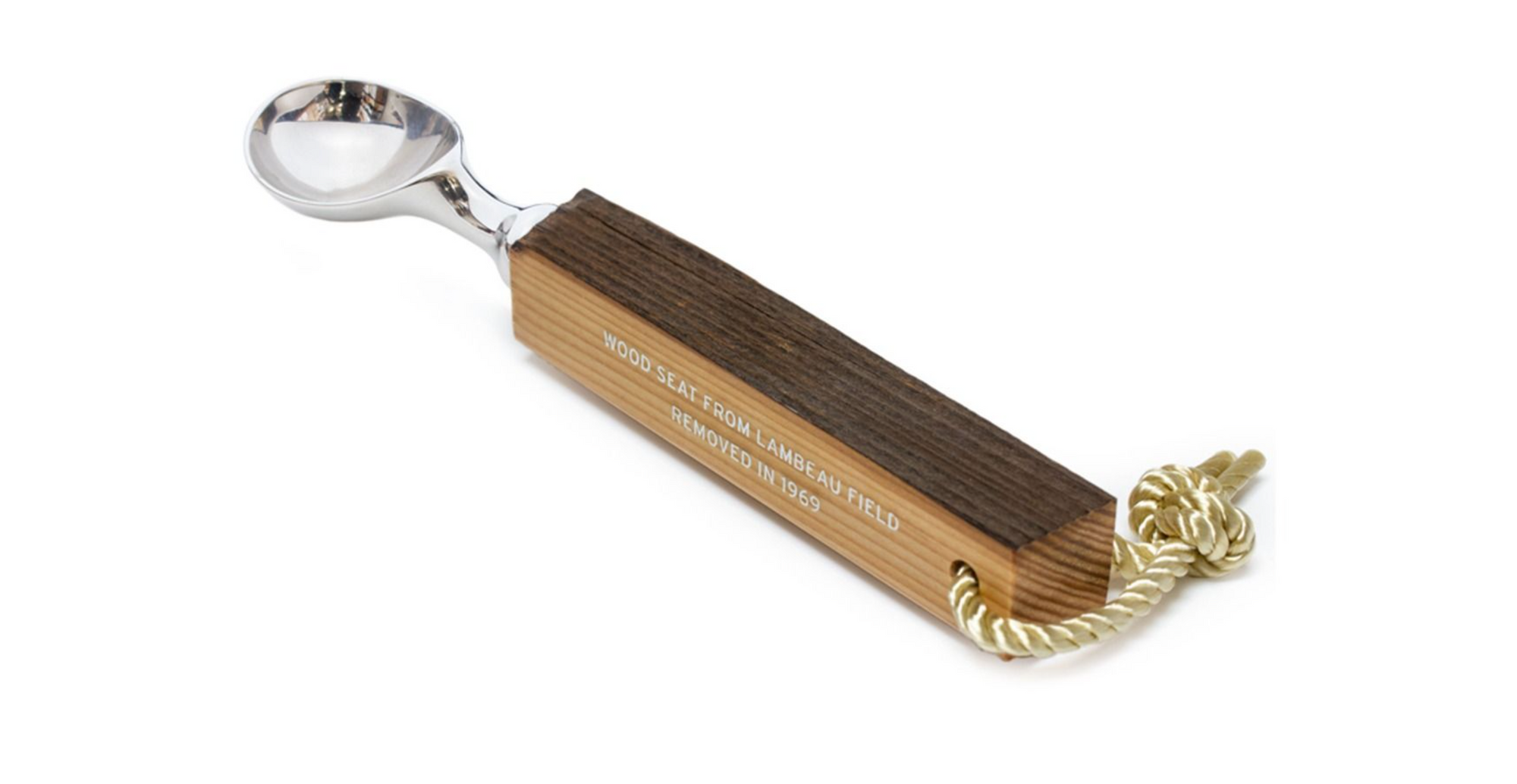 Some 50-odd years ago, the seating at the Green Bay Packers' Lambeau Field was renovated. The lumber recovered from that operation was kept safe and carefully preserved under climate-controlled conditions for the ensuing half-century in anticipation of this holiday season, when the wood fulfilled its destiny by becoming the handle of a $150 ice cream scoop. The marriage of wood to scoop is so elegant, you can tell it was meant to be. "WOOD SEAT FROM LAMBEAU FIELD REMOVED IN 1969," reads the inscription on the handle, so your guests will know that the tool being used to prepare their dessert has come into contact with countless asses—Packer fan asses, good decent salt-of-the-earth asses. Two scoops, please, with extra ass!
Seahawk-emblazoned compact mirror — $20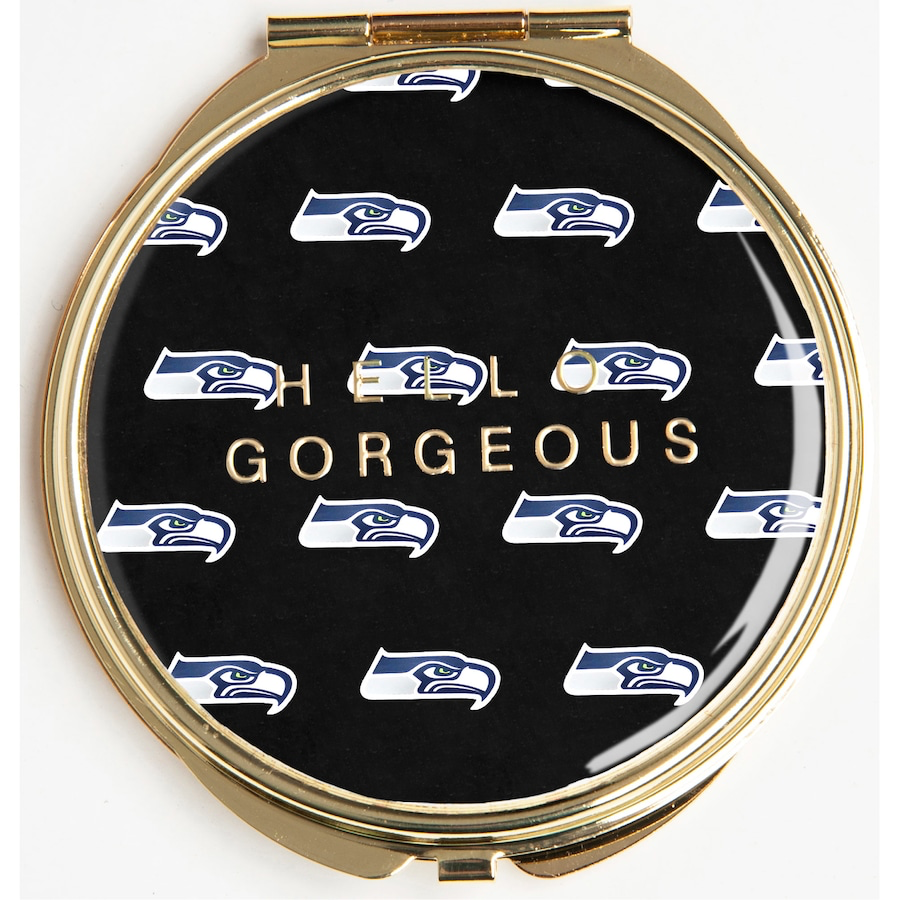 You could buy a regular makeup mirror for your loved one this Christmas, but don't you want to make them feel really beautiful? Go the extra mile and purchase this Seattle Seahawks mirror, which features a parade of dyspeptic marine raptors grumbling "H__L_ GORGEOUS" at you. I feel prettier already, prettier than an angry old seahawk, at least.
Painting of Chicago Bears legend Dick Butkus' enormous hand (?) — $1,400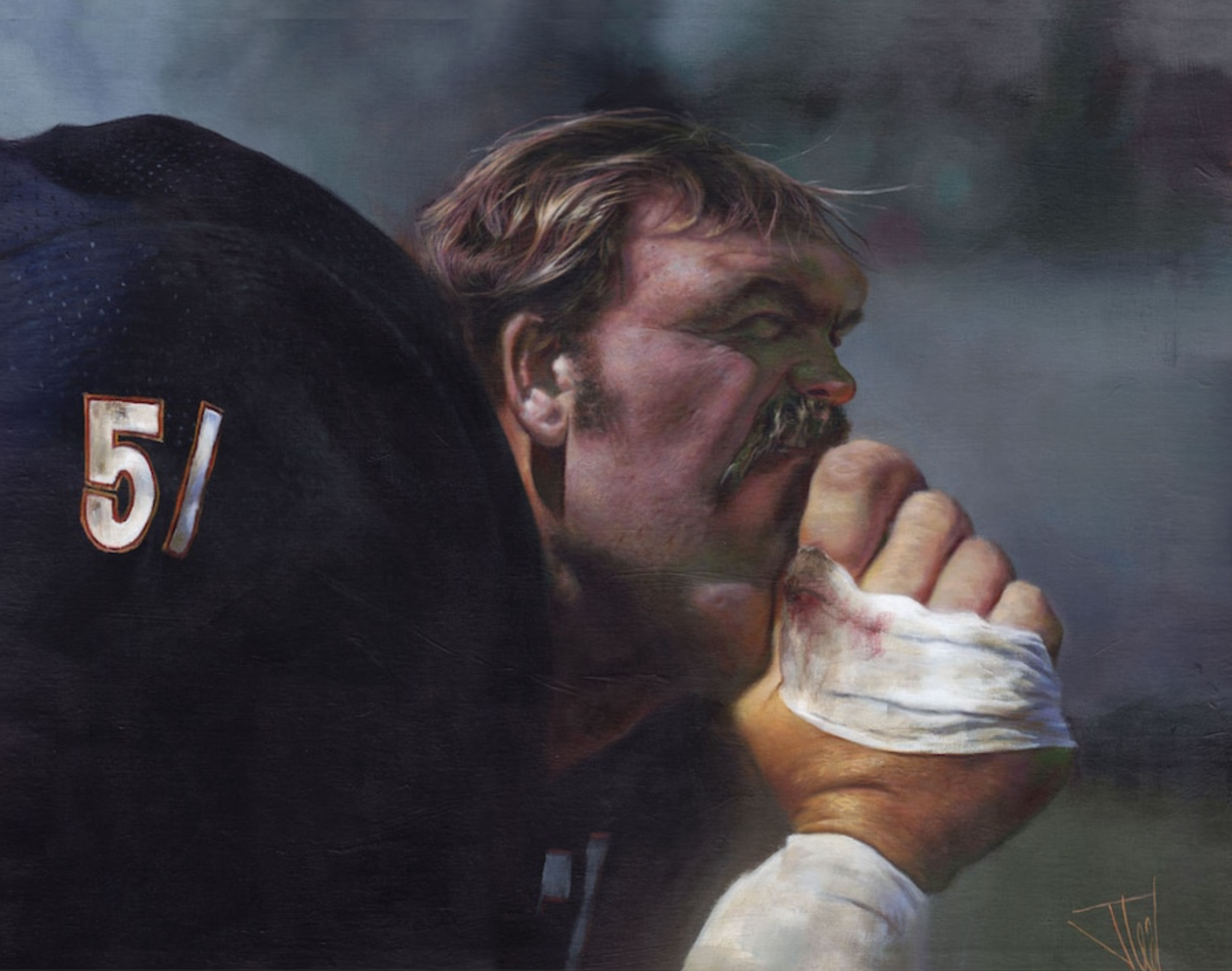 Longtime Chicago fans remember many things about eight-time Pro Bowl linebacker Dick Butkus—bone-crushing tackles, his intimidating demeanor on the field—but most of all they remember his huge, bloody hands. In this artwork we see Butkus in his classic pose, leaning his full body weight on one hand—a hand that has been wrapped in a bandage due to injury, and certainly not because the artist is trying to hide their inability to properly render a hand. Although, on that count, perhaps it isn't a hand at all, and Butkus is smelling the mangled foot of a vanquished enemy. The mystery only adds to the enduring appeal of this piece—every time you look at it, you see something different (specifically, you see a different mangled appendage).
Christmas ornament of Santa destroying all the children's gifts for some reason — $11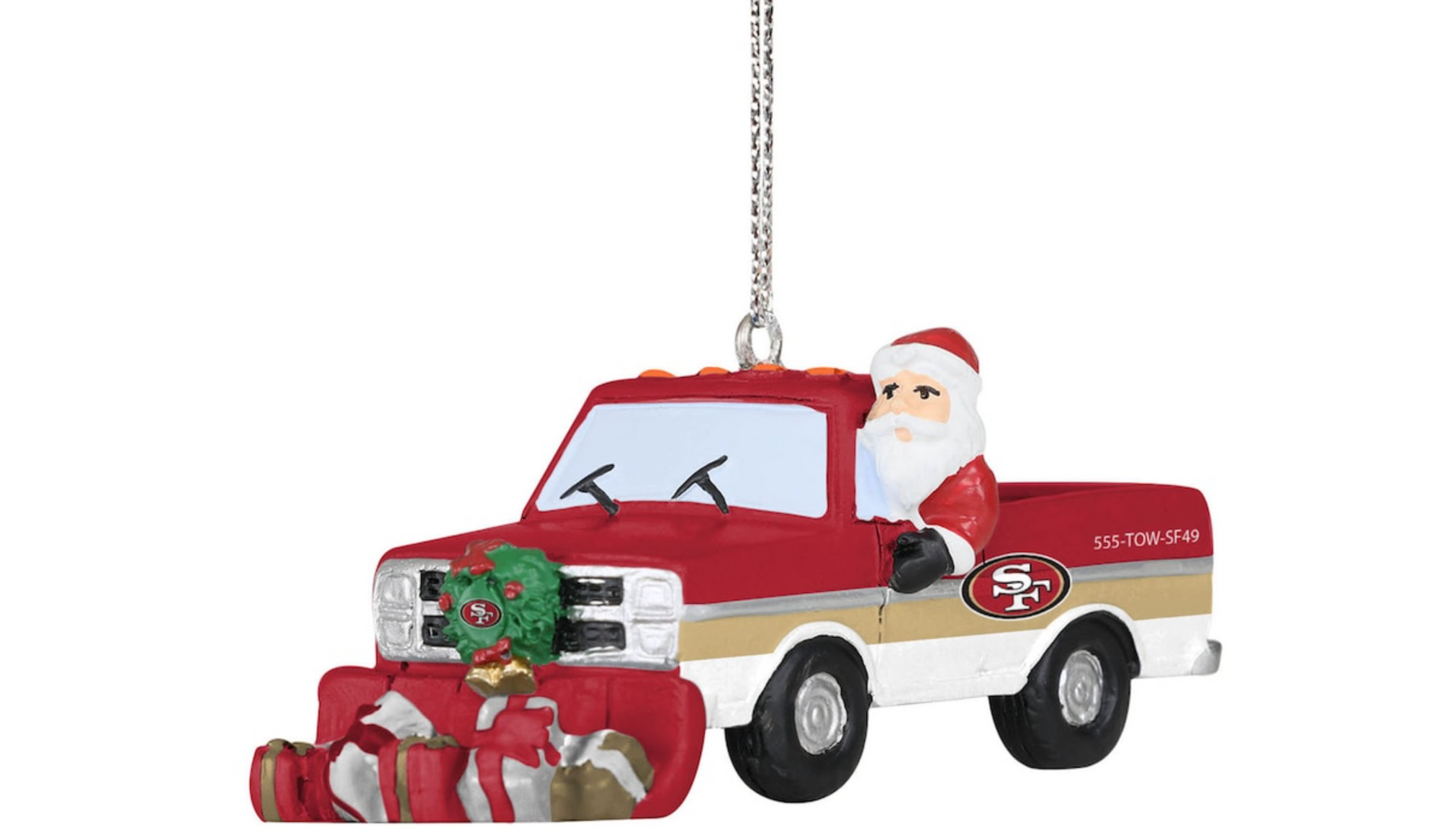 Uh-oh! Looks like Santa was watching his beloved San Francisco 49ers again, and he's just about had it with head coach Kyle Shanahan's spotty second-half play calling. He's really angry this time! Santa, where are you going? To your truck? Calm down, Santa, you probably shouldn't be driving while you're in this state. Hey, watch where you're going in that thing. Santa—the presents! No, noooo, Santa, the presents for all the children in the world, you're destroying them with your rusty San Francisco 49ers-themed plow! Please stop, Santa! Ohh, what's the use, all the toys are ruined now. Christmas is cancelled, everyone. The only thing that's left is this festive ornament, $11 plus shipping.
"New York Jets Patriotic Face Covering" — $1 (reduced from $25)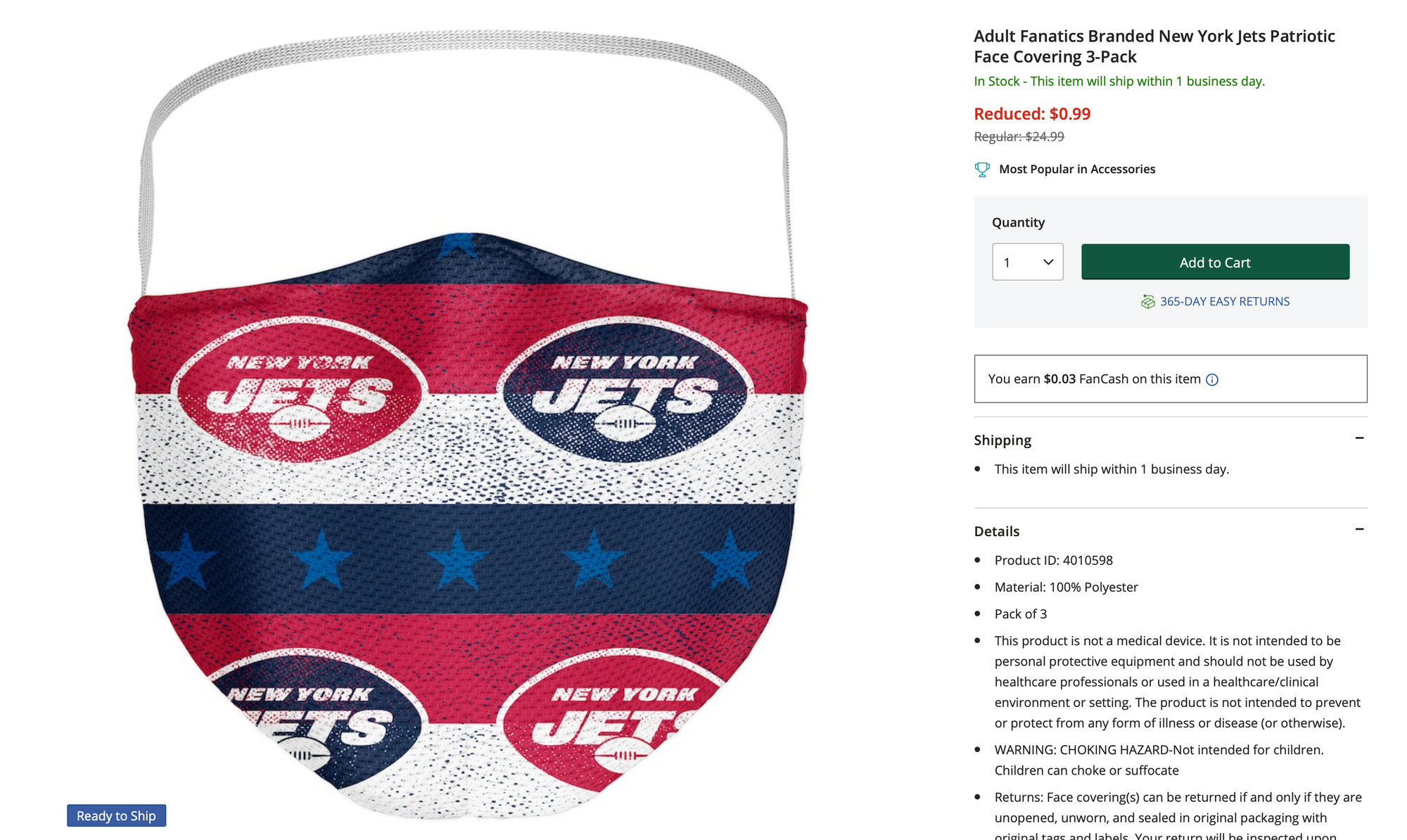 According to the product description, this mask is printed with team graphics so that "no one will be able to question where your allegiance lies." Indeed, anyone who sees you wearing this mask, from a distance, will have no question that you are a fan of the New York Jets' hated rival, the New England Patriots. Featuring the Patriots' color scheme of red, white, and blue, along with the logo of the New York Jets—the Patriots' favorite team to defeat—this mask not only protects you from deadly viral lung poison, it is also an object of pure spite, one that's available for 96 percent off the original purchase price. Don this mask and let there be no confusion: You are a dedicated fan of the New Yorkland Patrijets.
Your guaranteed-correct Week 11 picks, as computed by DORPFASTCALC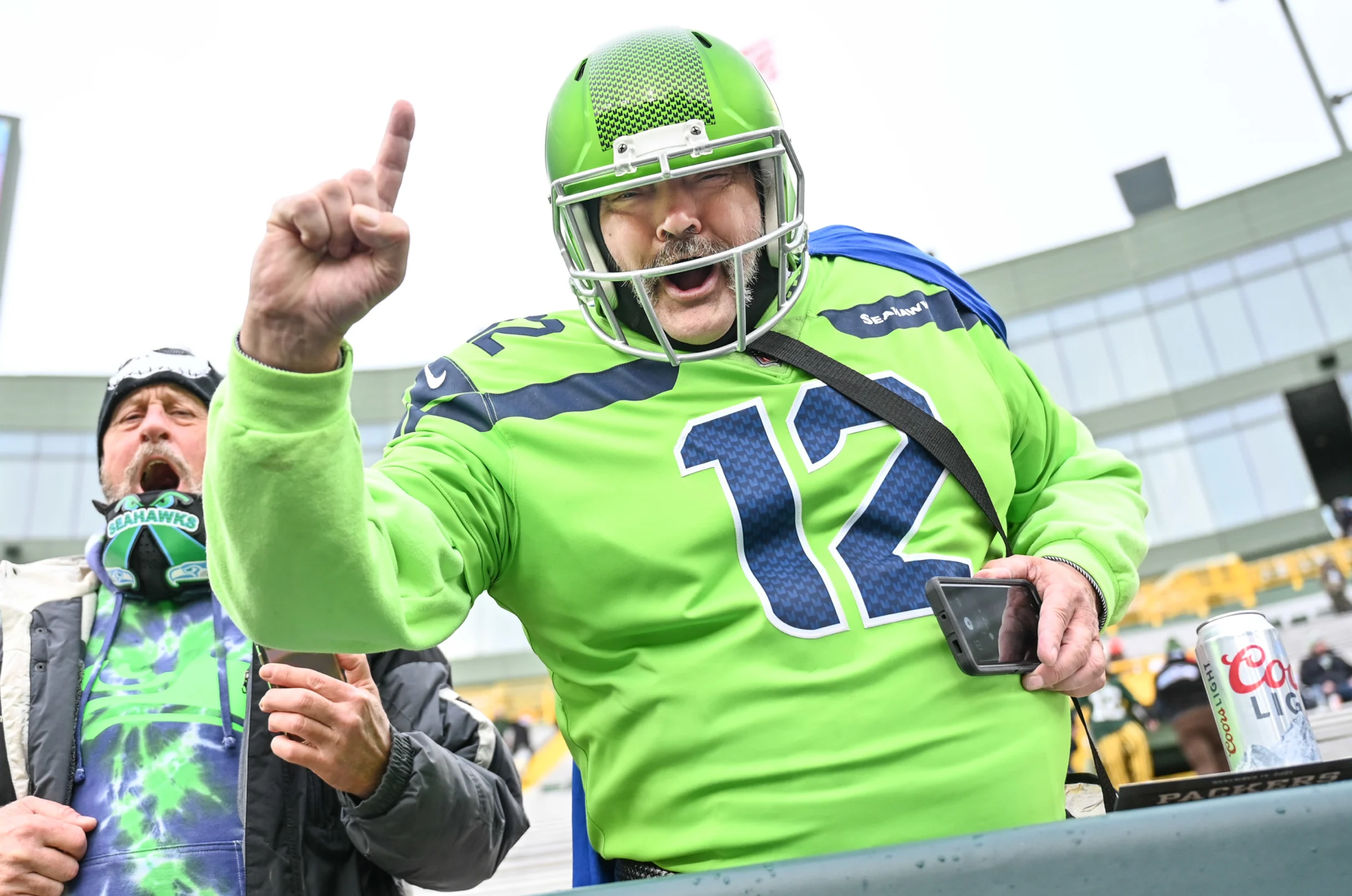 The football picks featured in Doink-O-Rama are guaranteed to be correct, as they are calculated by the Doink-O-Rama Pro Football Anticipation Satellite and Tip Calculator, or DORPFASTCALC. It's a robot that lives in space—of course it's good at picking football games.
In its Week 10 picks, true to its ironclad guarantee, DORPFASTCALC correctly predicted the outcome of seven football contests.
Also in Week 10, there were six aberrations. The robot's calculations were thrown off when the operations team forgot to switch it over from Daylight Saving Time.
Last week: 7-6.
Season to date: 67-60. Science works!
SUNDAY — EARLY GAMES
New Orleans Saints vs. Philadelphia Eagles (Fox): New Orleans 21, Philadelphia 17.
Miami Dolphins vs. New York Jets (CBS): Miami 2, New York 0.
Washington Football Team vs. Carolina Panthers (Fox): Carolina 24, Washington 20.
Indianapolis Colts vs. Buffalo Bills (CBS): Buffalo 28, Indianapolis 27.
Detroit Lions vs. Cleveland Browns (Fox): Cleveland 24, Detroit 13.
San Francisco 49ers vs. Jacksonville Jaguars (Fox): San Francisco 31, Jacksonville 18.
Houston Texans vs. Tennessee Titans (CBS): Tennessee 28, Houston 14.
Green Bay Packers vs. Minnesota Vikings (Fox): Green Bay 25, Minnesota 21.
Baltimore Ravens vs. Chicago Bears (CBS): Baltimore 20, Chicago 17.
SUNDAY — LATE GAMES
Cincinnati Bengals vs. Las Vegas Raiders (CBS): Las Vegas 24, Cincinnati 23.
Arizona Cardinals vs. Seattle Seahawks (Fox): Seattle 17, Arizona 16.
Dallas Cowboys vs. Kansas City Chiefs (Fox): Kansas City 30, Dallas 28.
SUNDAY NIGHT FOOTBALL
Pittsburgh Steelers vs. Los Angeles Chargers (NBC): Los Angeles 23, Pittsburgh 21.
MONDAY NIGHT FOOTBALL
New York Giants vs. Tampa Bay Buccaneers (CBS): Tampa Bay 36, New York 22.
Keep on long snappin'
A program note: There will be no Doink-O-Rama next week, as I will be busy digesting food. But the week after that, I'll be back in action, stuffed with turkey and loaded for bear.
Doink-O-Rama is a free subscription for the foreseeable future. If you want to help me out, share the column with a friend who might like it.
Reach out with your questions, observations, or doink sightings by emailing: doink at ological dot net.
Thank you for reading. Until next week: Keep on long snappin'.