This is PLAYOFF Doink-O-Rama, John Teti's column about pro football.
What makes Super Wild Card Weekend so super?
Attention readers: The weekend formerly known as Wild Card Weekend is now, for this year's playoffs, known as Super Wild Card Weekend. Update your leather-bound pocket calendars accordingly. Super Wild Card Weekend is called that because it has Monday in it, as all super things do. Traditionally, you'd finish a Wild Card Weekend—two days packed solid with wave after wave of powerful men smashing and leaping, with primal ferocity and astonishing grace, in sudden-death contests for hours on end—and you'd say, "Whew! Now, that's enough." Because even Caligula would say "that's enough."
But NFL owners are not Caligula. One difference between them, for instance, is—I'll think of a difference later. The point is, they did not believe regular Wild Card Weekend was enough. Among league executives, "enough" is a four-letter word. (If you're wondering, they leave out the "o" and the "h.") So they added a couple of games to the wild card round last year, and then this year, they pushed one of the extra games to Monday night—this latter tweak of the TV schedule was, apparently, the finishing touch that made the whole thing so "Super."
On that note, you'd think of all people, the marketing types who run the NFL wouldn't be so reckless about tacking the word "Super" on stuff willy-nilly, since "Super" constitutes half the brand of their gigantic flagship event. And the other half is "Bowl"! Which, let's be honest—that is not the half putting asses in seats. No, all the magic is in "Super," and here is the NFL watering down that precious mojo by slapping "Super" on its overstuffed satchel of first-round playoff games. That's the NFL brass for you. It's never enug for these guys.
Super Wild Card Weekend Game No. 1 — Saturday, January 15, 2022 at 3:30 p.m. Central — Las Vegas Raiders vs. Cincinnati Bengals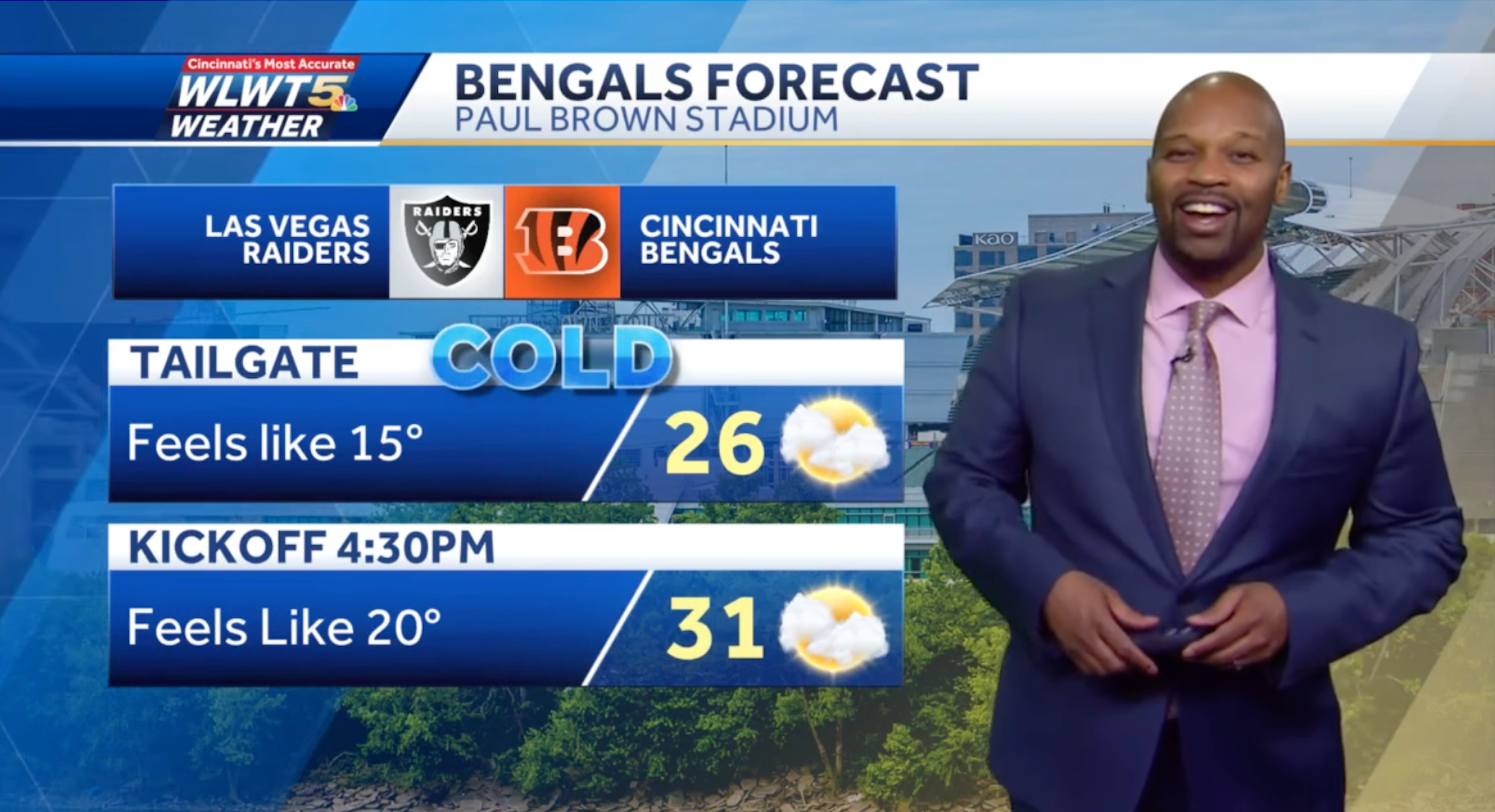 Weather report: Kevin Robinson is the chief meteorologist for Cincinnati WLWT NBC-5, and he carries the American Meteorological Society Seal of Approval. He reports that it will be COLD in Cincinnati on Saturday, with a pregame temperature of 15° masquerading as 26°. Tailgaters, do not be tricked into believing your thermometers with their balmy tales of 26-degree weather. The thermometer is a device of lies! Believe only Kevin Robinson, for he is the knower of the true coldness numbers.
How the Raiders got here: The final weekend of the regular season was promoted by the NFL as the "season finale," a pompous flourish meant to justify the excess of the newly expanded 18-week schedule and to put a shine on a weekend that, alongside the climactic finishes, would inevitably be full of meaningless games. Yet the literal season finale, the Los Angeles Chargers-Las Vegas Raiders tilt on Sunday Night Football, not only met but exceeded the league's epic billing. It felt bigger than a season finale. Because, as NBC analyst Cris Collinsworth noted in the fourth quarter, the game reached a point where, if it were a work of fiction, you would have turned it off because it was too implausible. Of course, unlike fiction, reality is unburdened by an obligation to be plausible.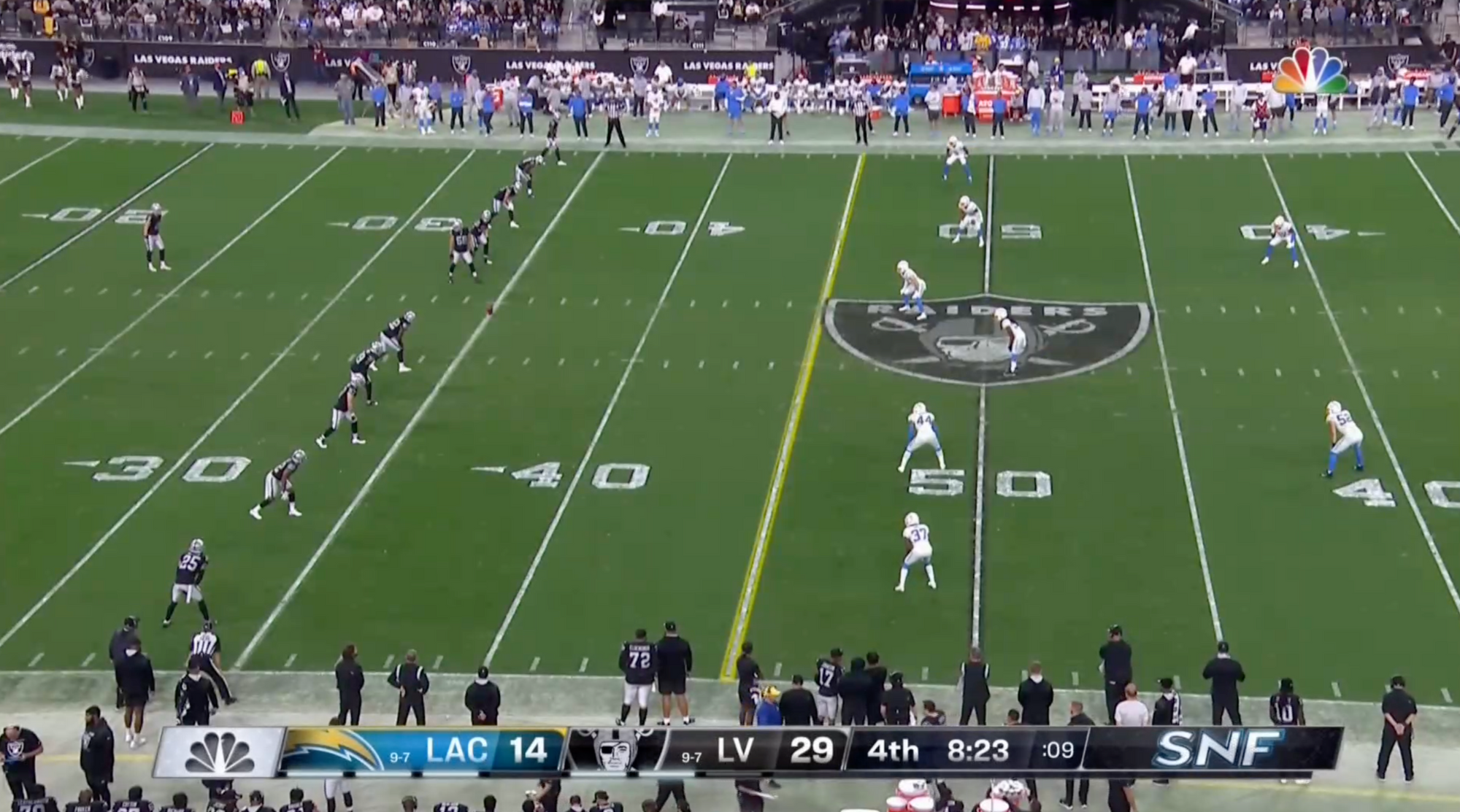 The screenshot above shows Los Angeles preparing to receive a kickoff, down by 15 points with eight minutes and change remaining on the clock. In a way, this is when the game began—when the Chargers were out of options. Before this drive, the Chargers had played an erratic, occasionally boneheaded game, and the Raiders defense had spent the second half pushing the Chargers around. Now L.A. needed two touchdowns, with a two-point conversion, to send the game to overtime.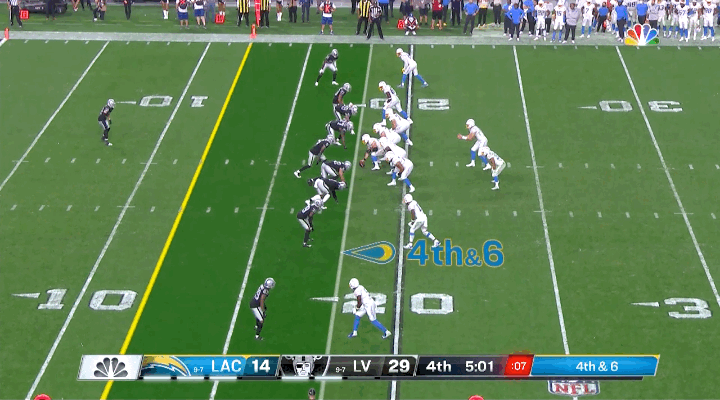 From here, the fourth quarter stretched into eternity. Time slows down for life-and-death moments, and the Chargers seemed to know no other sort of moment. Their exhaustion was evident; they barely seemed alive on first, second, and third downs. They would sleepwalk through these plays, shambling about the line of scrimmage in a hypnagogic stupor. But then it was fourth down, and months of hopes, disappointments, and grueling hard work came down to this one play, and the Chargers would arouse enough fight in themselves to gasp for one more breath of life. Again and again the weight of the season bore down on Los Angeles, and every time they somehow, in their delirium, heaved that weight across the line to gain. At which point they'd drowse off for a bit until it was time for the fourth-down smelling salts again.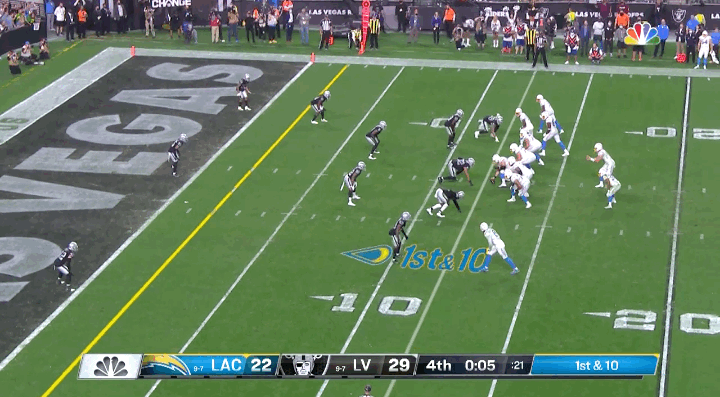 Finally, as the clock ticked over to triple zeroes, Los Angeles quarterback Justin Herbert fired a pass into the end zone—touchdown, tie game.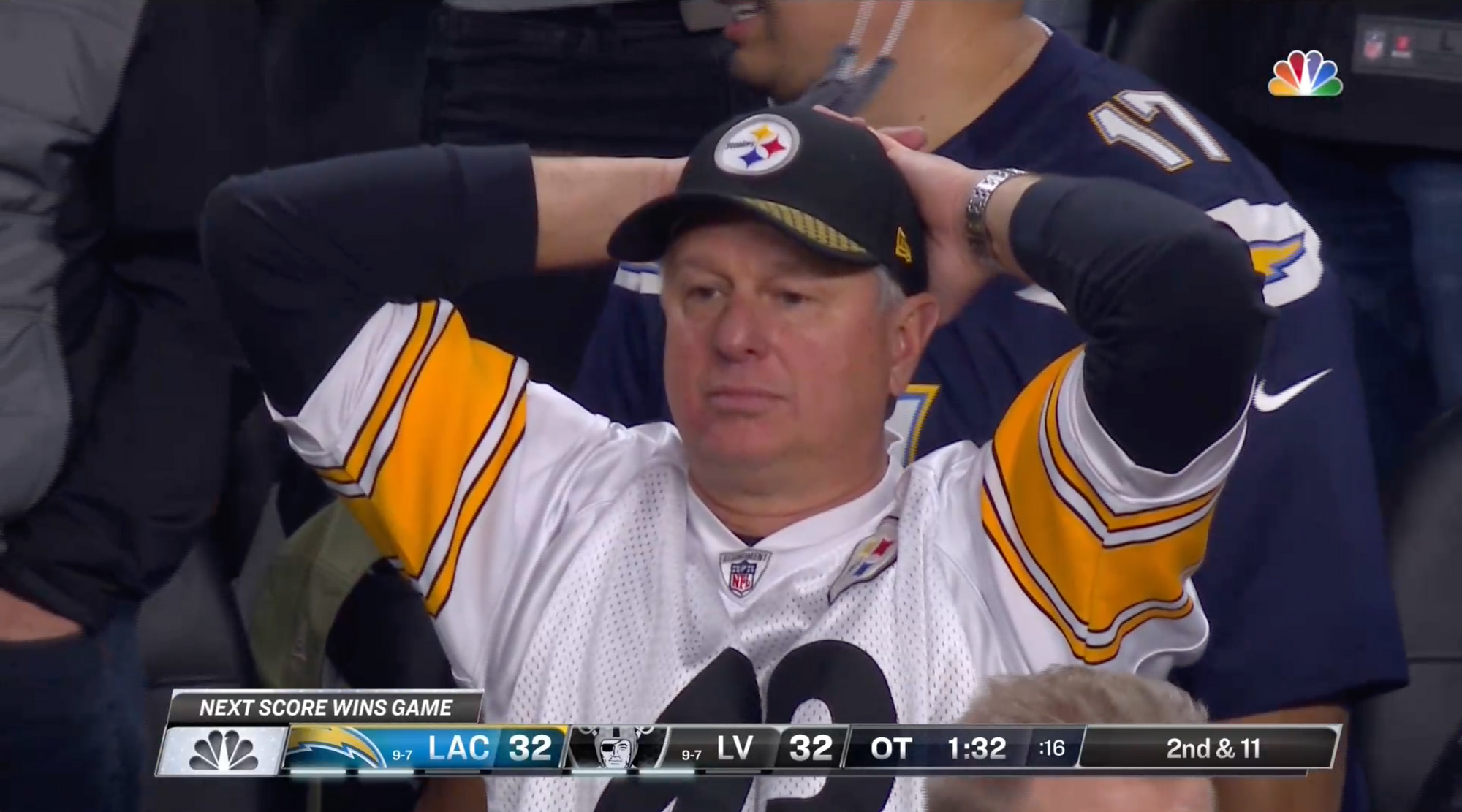 As the Chargers cobbled together a comeback in this lurching, death-defying manner, and the game improbably careened toward overtime, NBC's Collinsworth fixated on a curious yet increasingly relevant wrinkle of this season-concluding game. The winner would go to the playoffs, and the loser would go home, which was simple enough. But if the Chargers and Raiders happened to tie, both teams would move on, and a third party—innocent bystanders the Pittsburgh Steelers—would be disqualified, by math, from postseason competition. Because he is a football nerd, Collinsworth found the scenario amusing, as did I. And after L.A. and Vegas traded field goals in overtime, this ridiculous twist ending became a live prospect. The telecast's director obliged the fantasy with shots of anxious Steelers fans in the crowd as the overtime clock wound down, with a score of 32-32 on the board and no victor in the offing.
Collinsworth went so far as to suggest that the Raiders could take a knee on the final possession of overtime and accept the draw, but no truly great season finale could end in a tie. With a mere two seconds to go, the Raiders field goal squad lined up to do the honorable thing and play for the win. The kick was good. We didn't need the weird ending, for football had already made its point, and in timely fashion. Chargers-Raiders reminded us, on the eve of the playoffs, that the game doesn't need to make sense. Football's penchant for implausibility is, in fact, the source of its most exhilarating moments.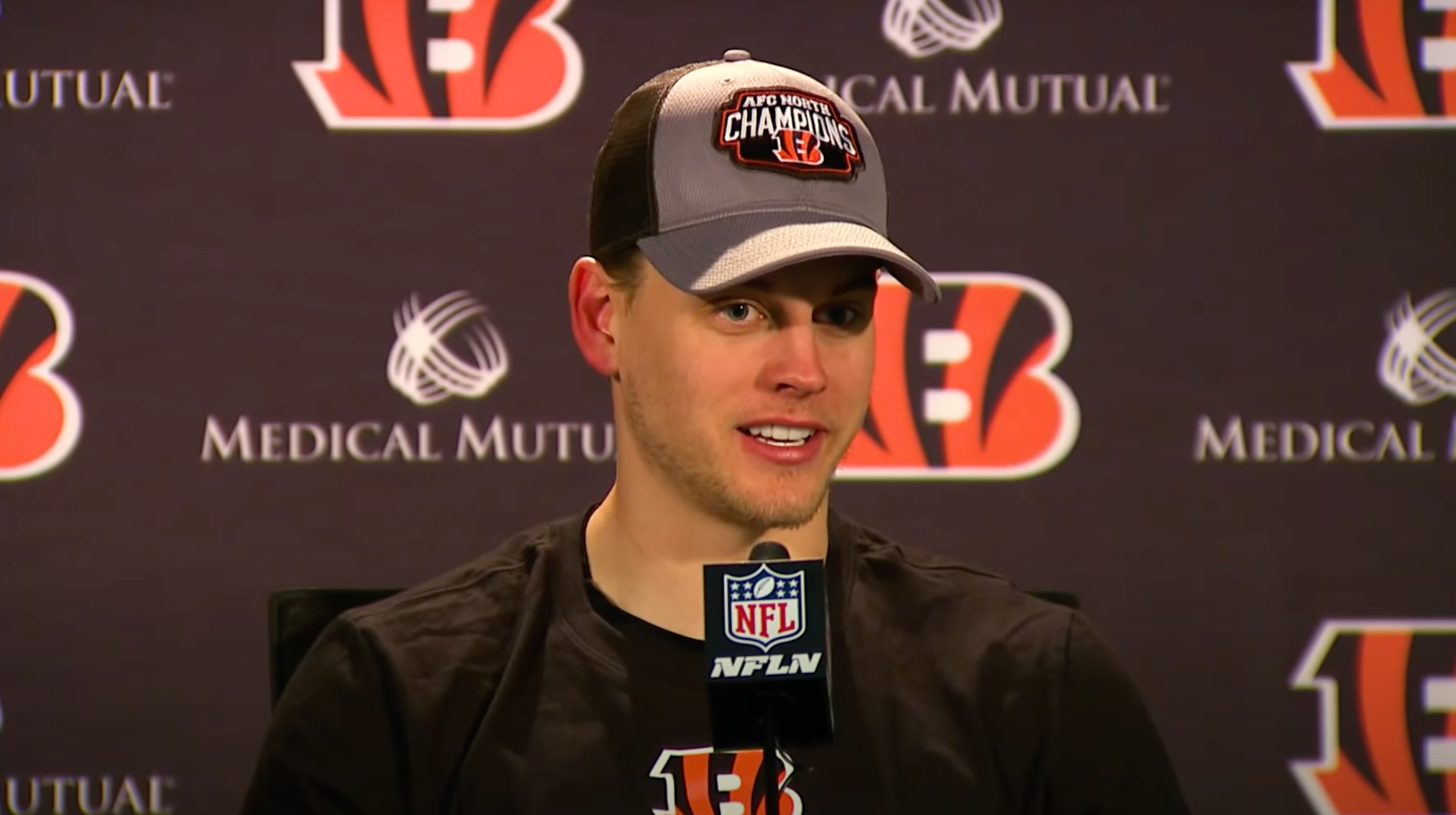 Player to watch: Cincinnati Bengals star Joe Burrow is the only quarterback in the playoffs whose last name is a verb describing a non-football activity you could perform on the football field. (Philadelphia Eagles quarterback Jalen Hurts does not count; his name describes a quintessential football activity.) When Burrow lines up under center this Saturday, he could, if he were so inspired, really go under the center like no quarterback has before, by which I mean dig a tunnel underneath his offensive line with his bare hands. But Cincinnati fans are holding out hope that Burrow will not do this, and that he will instead continue throwing millions of touchdowns, even though his name doesn't say anything about that.
THE DORPFASTCALC PICK: Cincinnati 38, Las Vegas 27.
Super Wild Card Weekend Game No. 2 — Saturday, January 15, 2022 at 7:15 p.m. Central — New England Patriots vs. Buffalo Bills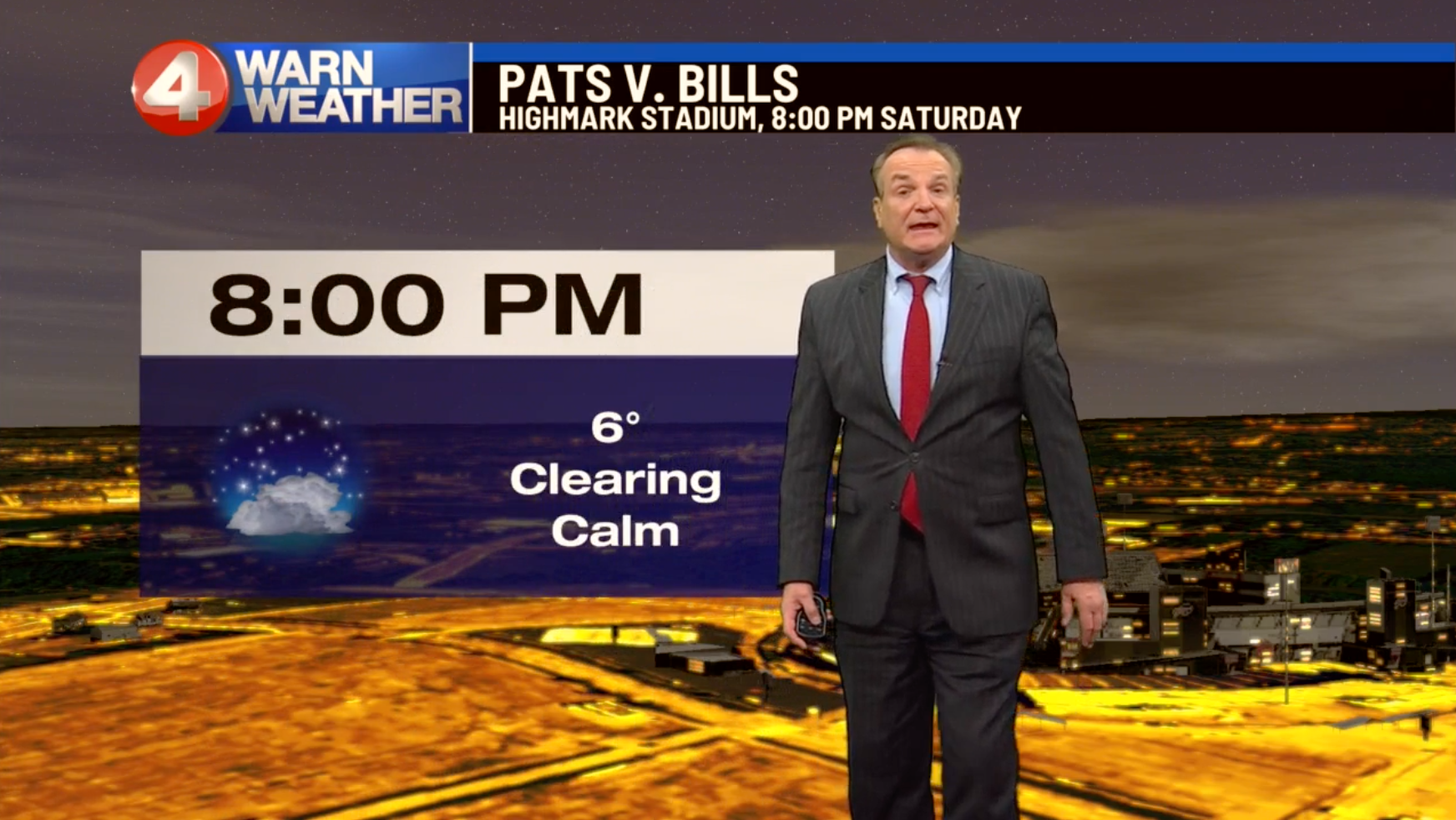 Weather report: A member of the WIVB News 4 team since 1983, Mike Cejka is the longest-tenured meteorologist in the Buffalo TV market. He reports that before kickoff, the environment at the Bills' home field will be calm. This may be the first time that the pre-kickoff environment at a Buffalo Bills home game has been described as calm.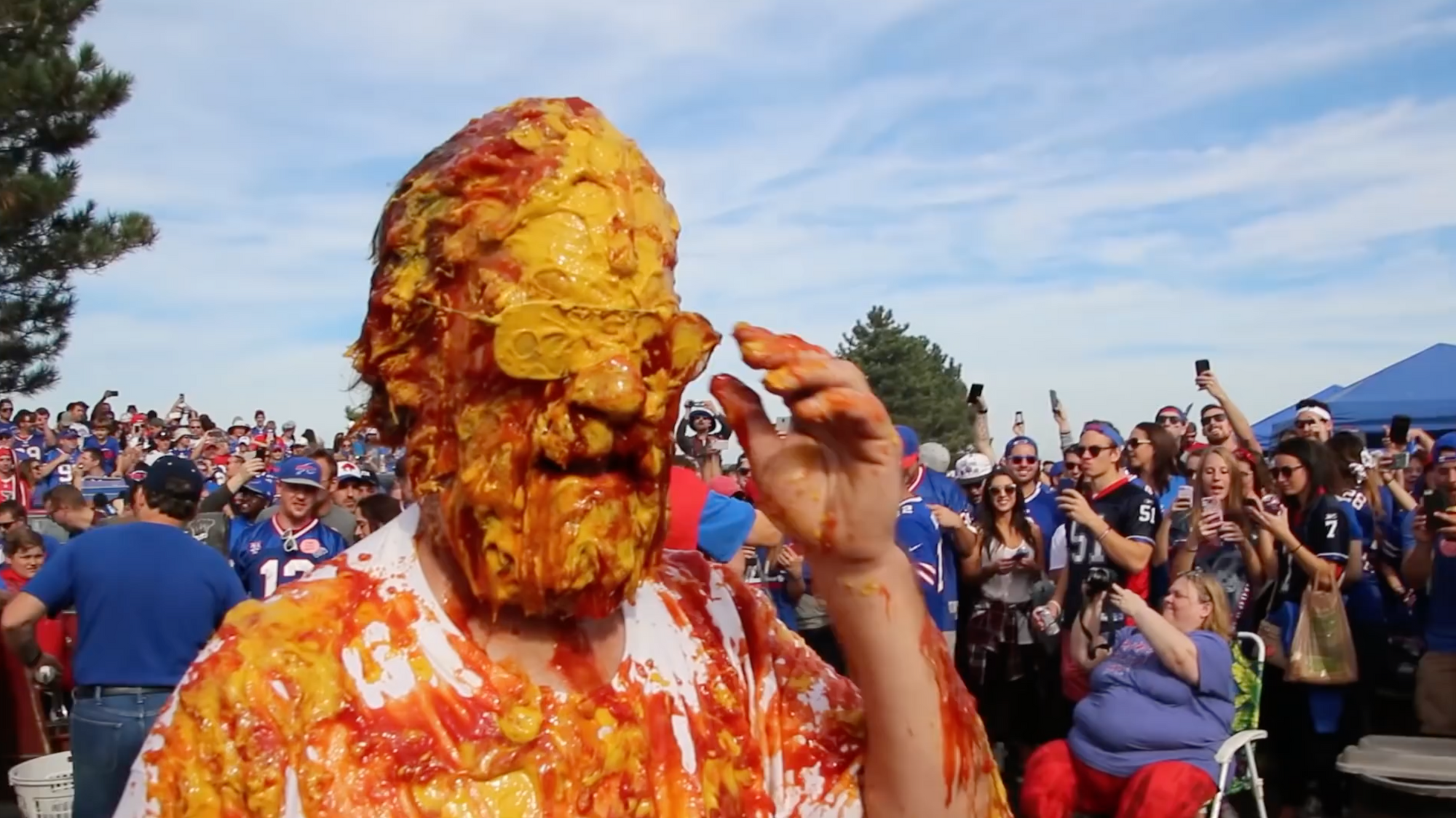 Here is Pinto Ron, one of the so-called "Bills Mafia" tailgaters who turn the Highmark Stadium into a debauched display of fandom before every Buffalo home game. Pinto Ron's signature shtick is inviting his friends to douse him with ketchup and mustard while he grasps a hamburger. As much as I hate to quibble with venerable Buffalo weatherman Mike Cejka, I suspect that when Pinto Ron and his buddies gather in the parking lot in anticipation of the Bills' playoff showdown against their hated rivals the Patriots, the prevailing conditions will be something less than calm.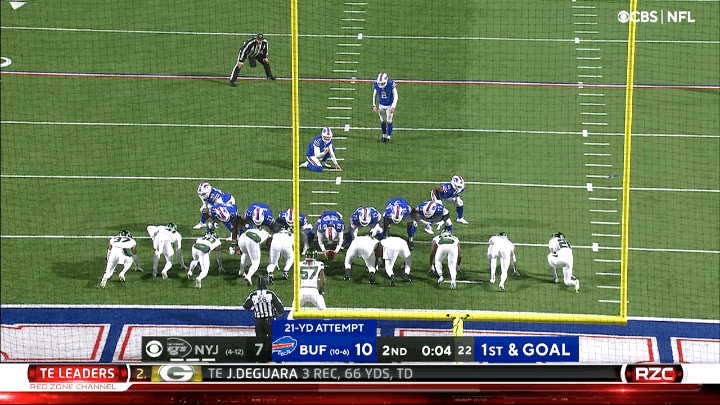 Phantom doink: Just when I thought I'd seen every variety of doink there was to see, Buffalo Bills kicker Tyler Bass came up with a new innovation in the field of doinks during the Bills' Week 18 game against the New York Jets: the phantom doink. This is a successful field goal attempt that does such a convincing impersonation of a doink that it fools the person broadcasting the game. "Oh! And he hits—!" cried CBS announcer Kevin Harlan, before abashedly realizing that he had hallucinated the ball bouncing off the upright. Thank you, Tyler Bass, for your contribution to the doink menagerie.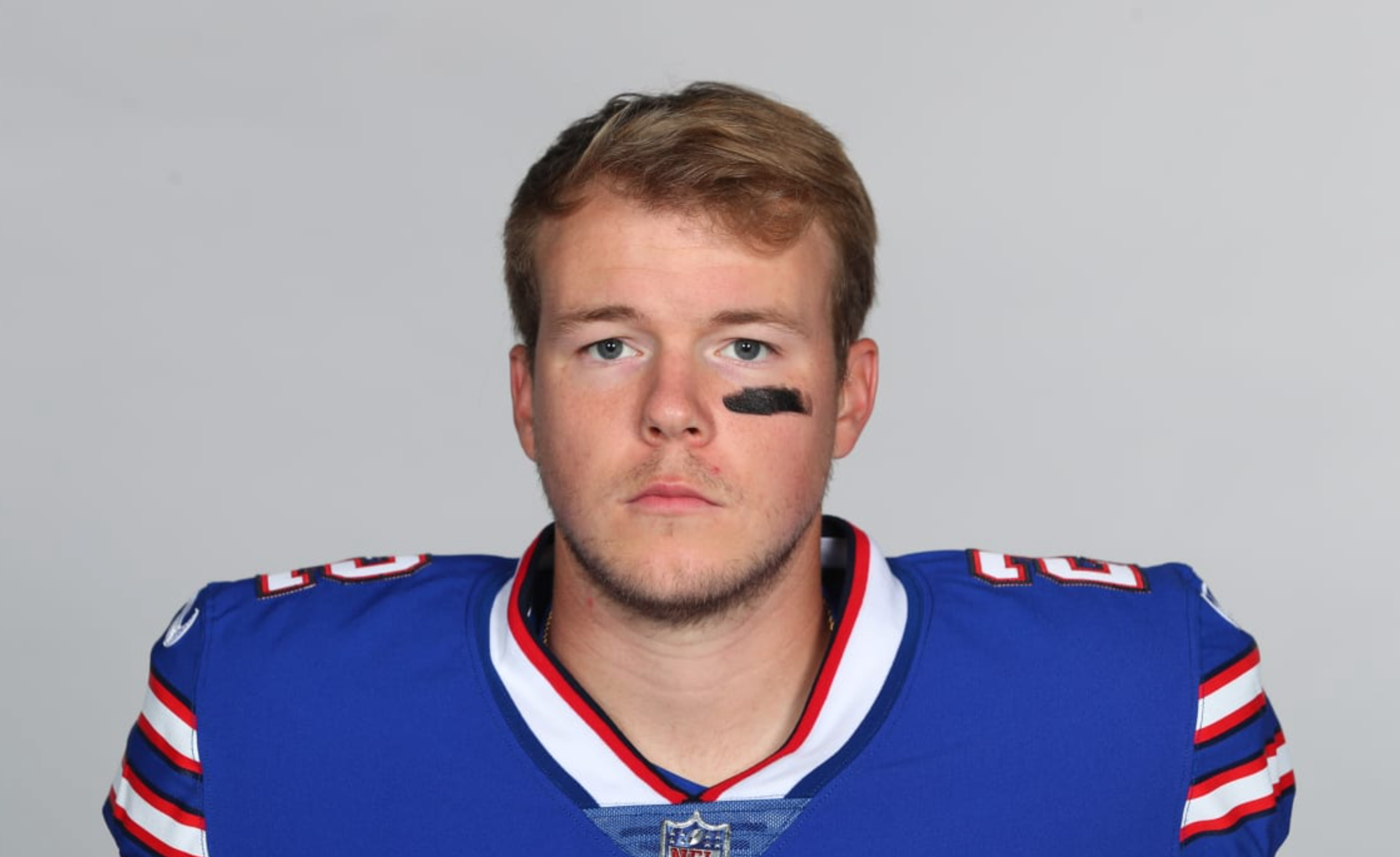 Oh, and by the way, Tyler, I like that endearingly emo left-side-only eyeblack thing you do, too.
Off-label use: This week on ESPN's morning talk show Get Up, during a segment about Bills quarterback Josh Allen's inconsistent performance in cold games—a tendency that Allen reportedly chalks up to poor circulation in his extremities—ESPN analyst Bart Scott prescribed what he claimed was a time-tested remedy. "Is Josh Allen listening?" Scott said. "Can people get this message to him? Viagra. Take some Viagra before the game, baby. That'll get the circulation going right." As his fellow panelists on the suddenly aptly named Get Up program fell apart into a mess of snickers, Scott continued to insist that in his day, he and plenty of other players were popping the little blue pill left and right to battle the cold. Scott was met with nothing but skepticism, especially from analyst Louis Riddick, who sat there practicing his best "well I never!" pout.
But there's no reason to suspect Scott is making this up—after all, why would he? In 2020, retired NFL wide receiver Chad Johnson said that he took Viagra before every game, and as far back as 2008—during Bart Scott's playing days—the Associated Press reported that Viagra had developed a following among endurance athletes. In any case—Josh, if you decide to heed Bart Scott's advice and ride those boner pills to victory, follow Pinto Ron's example: Wear a condiment.
THE DORPFASTCALC PICK: Buffalo 24, New England 21.
Super Wild Card Weekend Game No. 3 — Sunday, January 16, 2022 at 12:00 p.m. Central — Philadelphia Eagles vs. Tampa Bay Buccaneers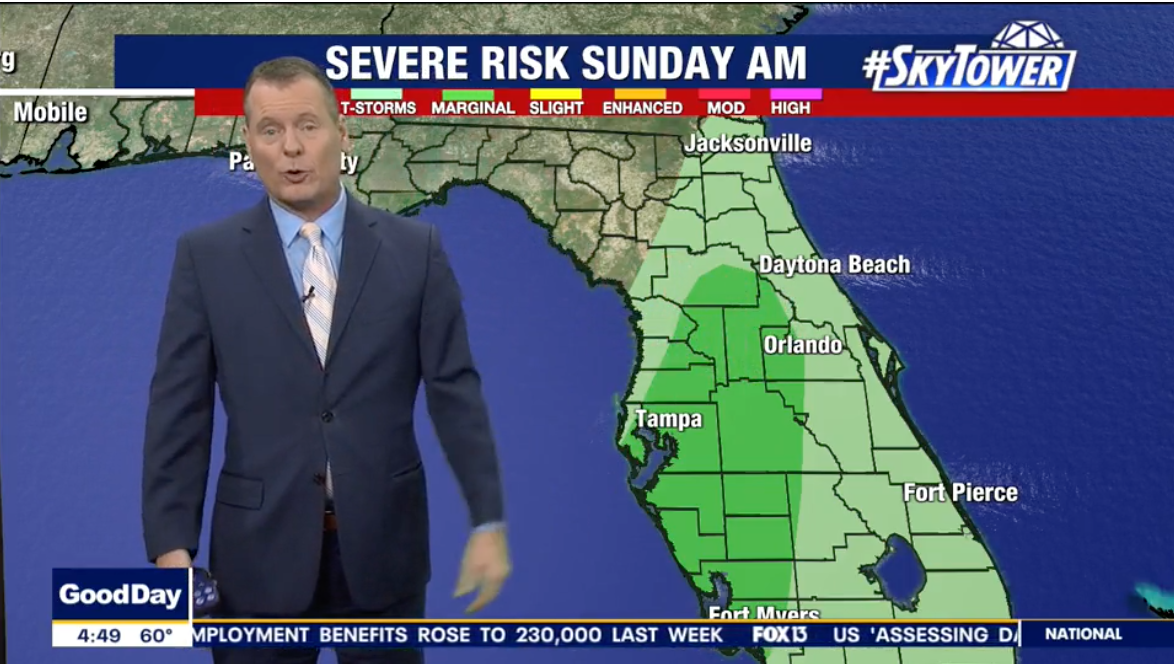 Weather report: WTVT Fox 13 meteorologist Dave Osterberg was once voted "Best Weathercaster in South Louisiana," but he now plies his trade in Tampa—South Louisiana's loss is the Florida Gulf Coast's gain. Osterberg predicts showers and high winds for Sunday's game after heavy rains pass through the area early that morning. "I'm going to flat out tell you, you are not boating on Sunday," Osterberg said, and you know what, he's right! I've never met Dave Osterberg, but it's like he's known me all my life.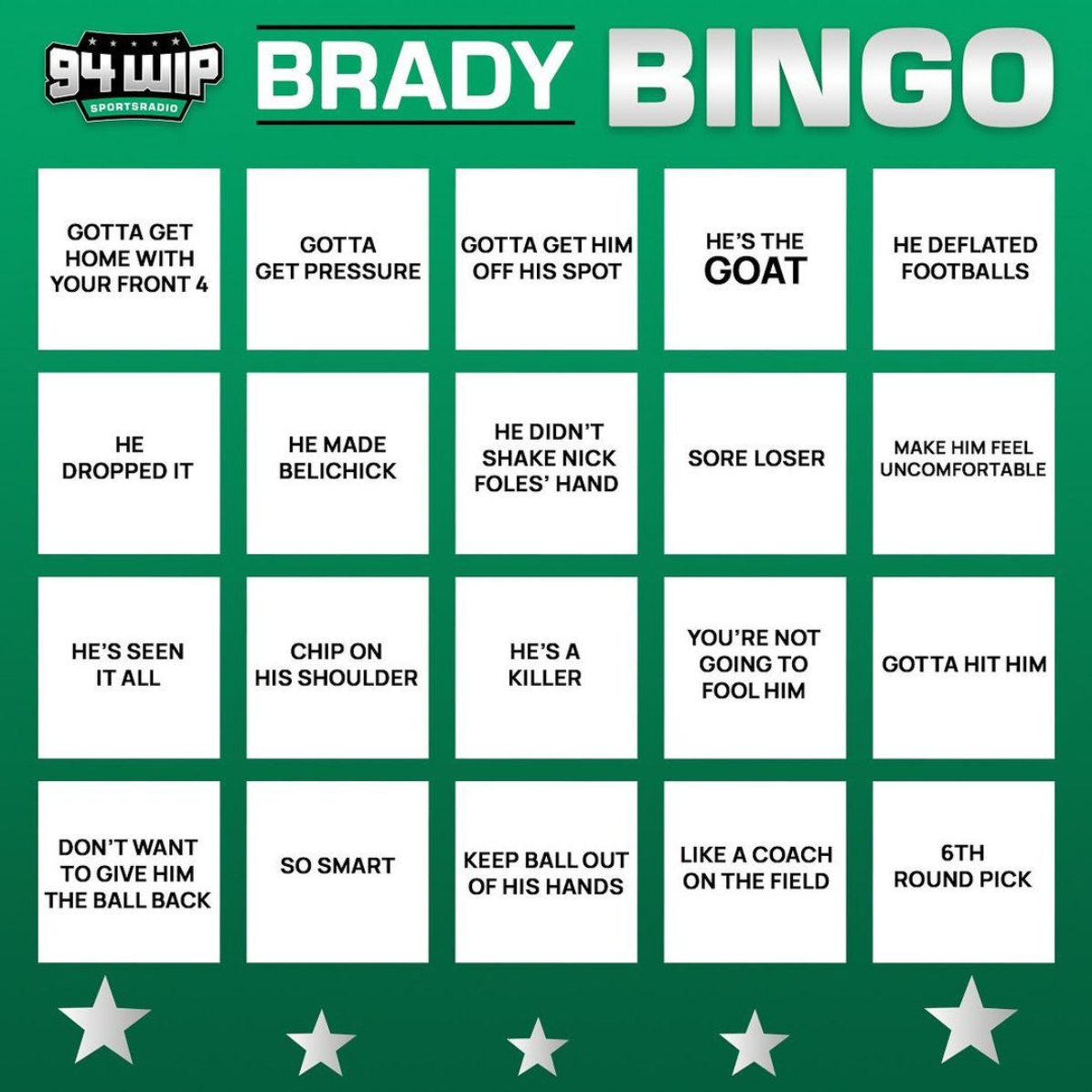 Hand-to-hand combat: Earlier this week, my friend Drew, an Eagles fan, sent me an Instagram post of a "Brady Bingo" card that sports-talk radio station 94WIP created for its listeners. The squares on the card—well, most of them—feature clichés that routinely spill out of announcers' mouths when they talk about Tampa Bay quarterback Tom Brady. "You can use it for a drinking game on Sunday," the caption suggested, perhaps making a tacit acknowledgement that, with only four rows, this bingo card is unsuitable for its traditional use, the game of bingo.
If I didn't already know this card was from a Philadelphia station, I would have been able to guess from the center square in the second row, "HE DIDN'T SHAKE NICK FOLES' HAND." Here is a bit of lore that is ingrained into Eagles football gospel and virtually unknown to the rest of the country. The grievance is simply that, at the end of Super Bowl LII, after Brady's New England Patriots lost to Foles' Eagles, Brady did not meet up with Foles at midfield to shake hands. At his Thursday press conference this week, Brady was asked by a reporter whether he was aware that Eagles fans remain "obsessed" with this non-handshake; a bemused Brady said he wasn't aware.
Brady wouldn't need to know about it—the myth exists only for the benefit of the Philadelphia faithful. You see, Eagles fans spent decades crystallizing their identity around the idea that they were perpetually disrespected second-class citizens of the league. And for decades, the shoe fit. But then the Eagles won the Super Bowl. Philly folks were happy, to be sure, yet they also had to contend with a ferocious cognitive dissonance: They were winners now. The foundation of their identity had been swept out from under them. "HE DIDN'T SHAKE NICK FOLES' HAND" restores the balance—it is a bit of narrative legerdemain that allowed the Eagles fanbase to maintain its self-image as unloved stepchildren even after winning the championship of the entire league against the greatest team of the era. That's why, if you're not from Philadelphia, you've probably never heard of the handshake controversy. The story exists to help Eagles fans see themselves as losers. The rest of us require no such assistance.
THE DORPFASTCALC PICK: Tampa Bay 31, Philadelphia 20.
Super Wild Card Weekend Game No. 4 — Sunday, January 16, 2022 at 3:30 p.m. Central — San Francisco 49ers vs. Dallas Cowboys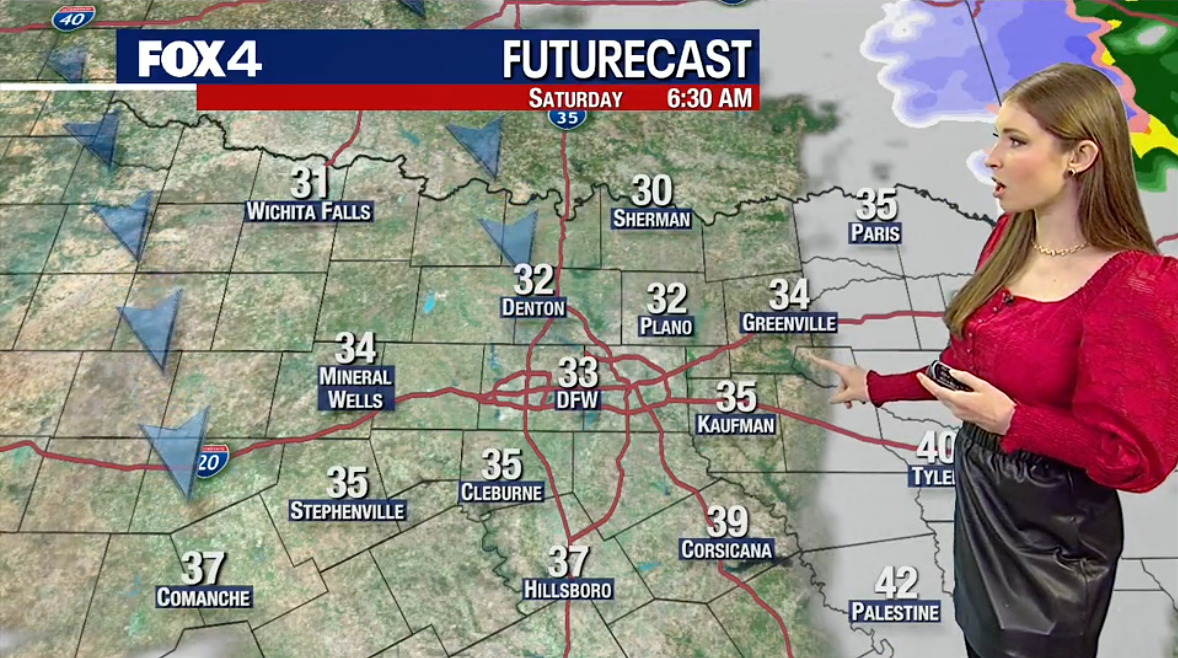 Weather report: KDFW meteorologist Kylie Capps graduated from the University of Oklahoma with a bachelors' degree in meteorology and a minor in broadcast meteorology. So rest assured that Capps has done her homework as she predicts breezy conditions with highs in the upper 40s as part of her "Futurecast," which is modern local-news parlance for weather forecasts that predict events in the future—as opposed to more traditional forecasts that predict the past.
Recycling-bin talk: Combing the earth for thinly premised grievances is not just a hobby of Philadelphia fans. As you may have noticed, it is the favored pastime of basically every media personality on the internet, fulfilling their mandate to endlessly shovel coal into the great online furnace of recrimination and disdain. Thank you for your service, folks, and please keep shoveling! A brighter future is around the corner—just a few more self-righteous Twitter fights and we'll be there for sure.
CBS Sports reporter Bryan DeArdo picked up his shovel this week by noting that San Francisco 49ers defensive end Nick Bosa had provided "bulletin board material" for the Cowboys. (Sports reporters imagine that every team keeps a bulletin board of mean things other team have said about them, like a community scrapbook of hurt feelings.) Here is what Bosa said, in regard to Dallas offensive linemen Tyron Smith and La'el Collins, that will supposedly get the Cowboys fired up:
I think they're both very solid players. Obviously, Tyron's had a Hall of Fame career, I think. And him and [49ers offensive tackle] Trent [Williams] have been the best tackles in the league for a long time. But they're definitely beatable. There's tape on them getting beat, and we're trying to do the same. They've definitely been in and out of the lineup a lot this year and the past years, so, the game plan is to make them work.
You can imagine the blood draining from Dallas head coach Mike McCarthy's face, the monocle tumbling from his eye socket, as he perused this quote. Did he just say he'll work hard to win the game against our talented players? an astonished McCarthy would wonder to himself. Where does he get the nerve?
"Saying Smith and Collins are 'definitely beatable' may not qualify as trash talk, but trash talk is nothing new to this rivalry." DeArdo said in his report, allowing a full half-sentence of honesty to creep into his prose before, as if the words he just wrote never happened, he resumed the rabble-rousing that is our sworn duty as citizens of the 21st century. DeArdo's article notes in passing that prior to a 1993 NFC Championship game against the 49ers, then-Cowboys coach Jimmy Johnson "famously predicted a win on a local Dallas radio show." What Johnson said was, "We will win the ball game. And you can put it in three-inch headlines. We will win the ballgame." No compliments, no gosh-they're-a-swell-football-team hemming and hawing. Just flat-out boasting. In response to Johnson's bravado, 49ers coach George Seifert said, "Well, the man's got balls, I'll tell you that. I don't know if they're brass or papier-mâché. We'll find out here pretty soon." (They were brass: The Cowboys handily defeated the 49ers and went on to win the Super Bowl.)
So you see how the standards for "bulletin board material" have fallen. The cautious, face-saving diplomacy practiced by today's NFL players and coaches doesn't quite measure up to the environment of the early '90s, when you had coaches openly questioning the composition of each others' testicles. Meanwhile, here in 2022, nobody is talking about Mike McCarthy's genitals at all! And he probably takes offense at that—just more bulletin board material for the Cowboys.
THE DORPFASTCALC FUTURECAST: Dallas 23, San Francisco 19.
Super Wild Card Weekend Game No. 5 — Sunday, January 16, 2022 at 7:15 p.m. Central — Pittsburgh Steelers vs. Kansas City Chiefs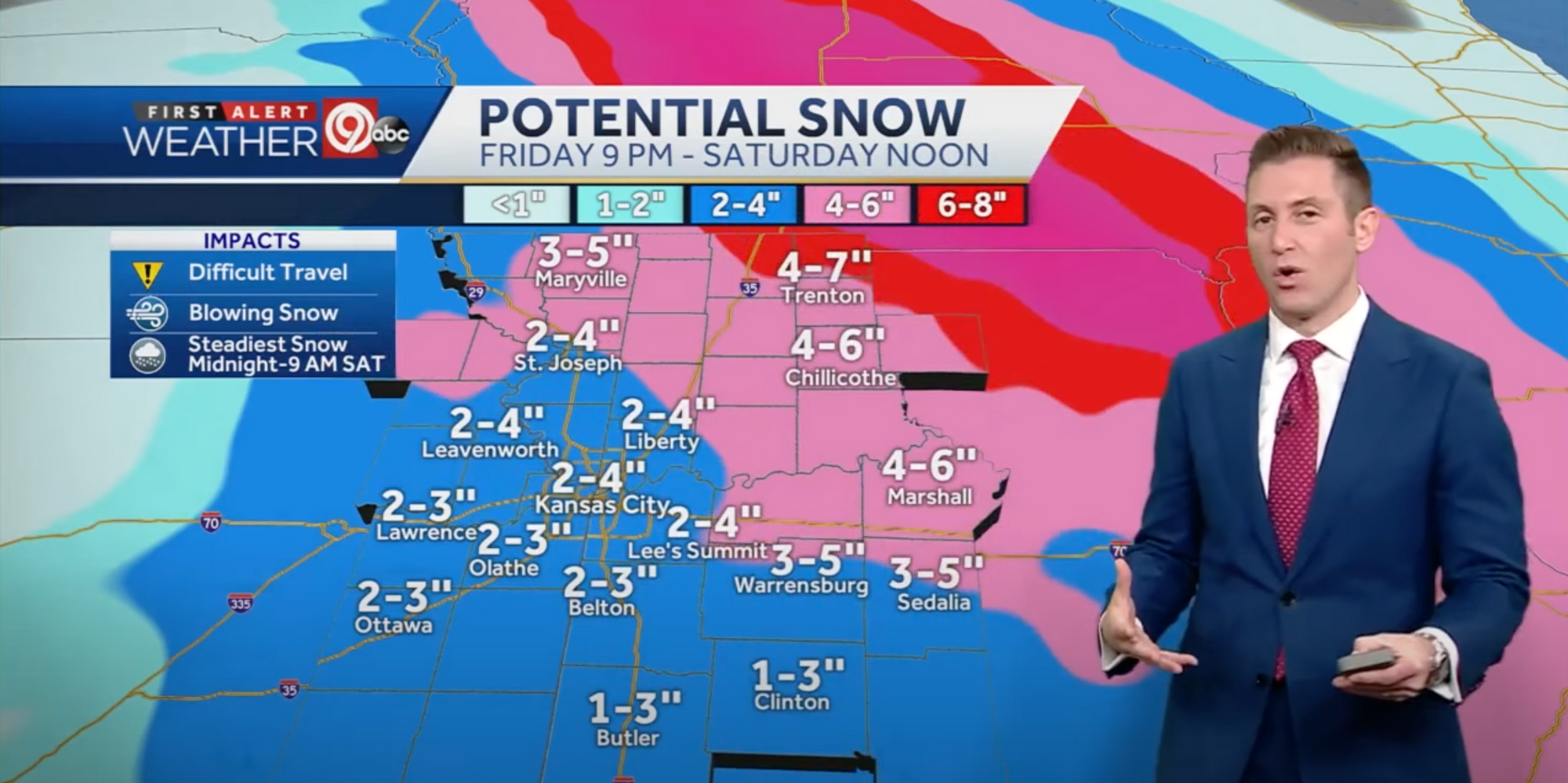 Weather report: KMBC 9 meteorologist Nick Bender is the recipient of multiple National Academy of Television Arts and Sciences Regional Emmy® Awards. He predicts that a snowstorm moving into the Kansas City area late Friday will have passed through by the time Sunday's game rolls around. Now, describing the timeline of a snowstorm may not qualify as talking trash, but holy moly, can you believe the trash that Nick Bender is talking here? That storm is going to be one highly motivated weather system this weekend.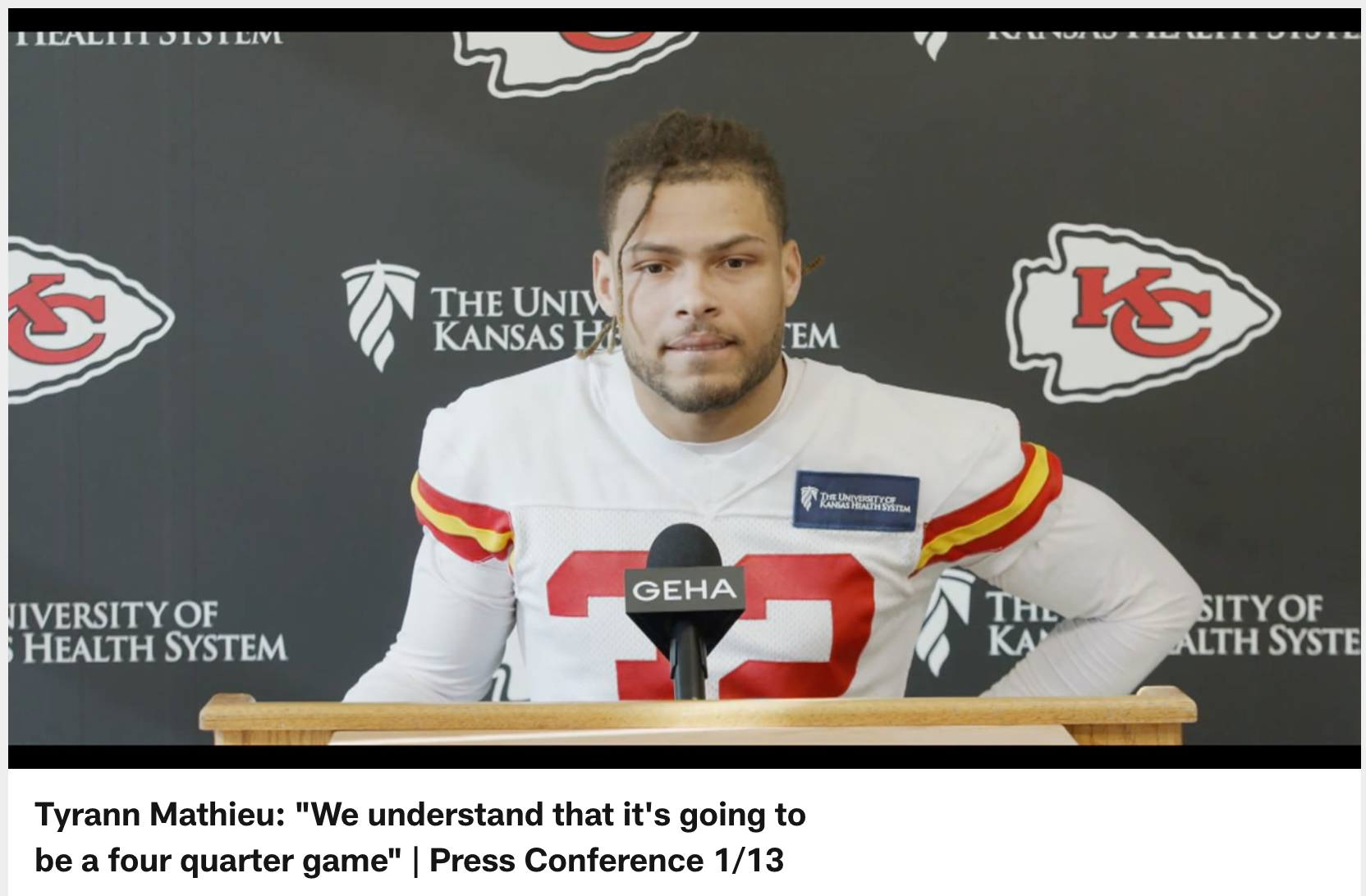 It's the simple things: When you reach the playoffs, success isn't necessarily about elaborate game plans and playbook razzle-dazzle—true champions know that it's crucial to refocus on the fundamentals. When you hear Kansas City safety Tyrann Mathieu tell the media, "We understand that it's going to be a four-quarter game," you know his head is in the proper back-to-basics mindset. Count the quarters for yourself this Sunday evening and watch as Mathieu is proven right.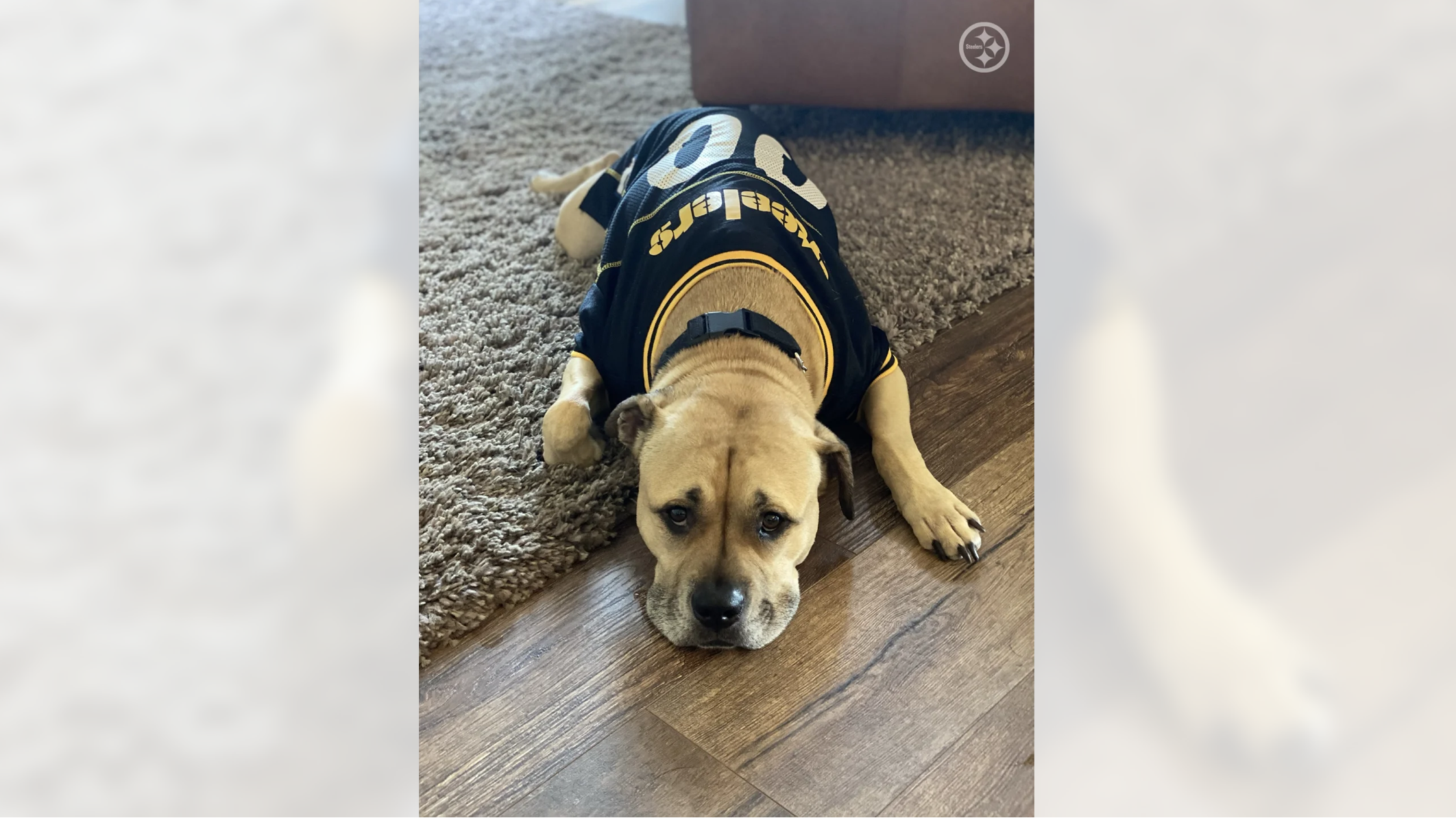 Dogging it: The Pittsburgh Steelers are running a fan engagement campaign called "My Steelers Pet" in which fans send in pictures of their Steelers-loving animals. Although the campaign invites all manner of pets to participate, the only animals featured on the Steelers website so far are dogs. Clearly, cats do not care for Pittsburgh's team. So who are they backing this weekend? The Cincinnati Bengals, you might think—the only cats remaining in the playoff field. But if you have cats at home, you know that one thing cats truly hate is other cats. Instead, cats will be rooting for the Arizona Cardinals, the team they would most like to eat.
THE DORPFASTCALC PICK: Kansas City 34, Pittsburgh 23.
Super Wild Card Weekend Game No. 6 — Monday!!! Wow!!! That's Super!!!, January 17, 2022 at 7:15 p.m. Central — Arizona Cardinals vs. Los Angeles Rams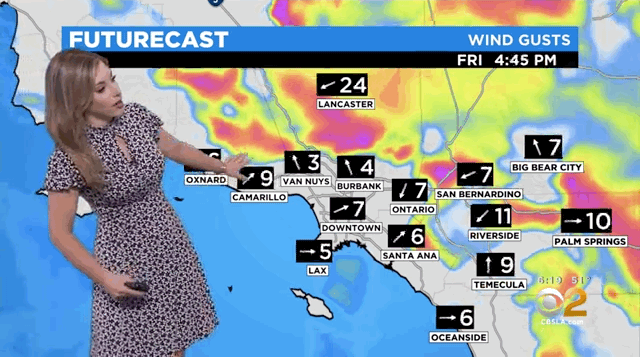 Weather report: KCBS meteorologist Alex Biston has a certificate in Operational and Broadcast Meteorology from Mississippi State University, and I have no idea what she was trying to tell me in her weekend forecast. Pardon me—her weekend Futurecast. But here's a bunch of colors and wobbling arrows if you'd like to figure it out for yourself.
Coming attractions: Although Los Angeles has two teams, it is the Rams that have most fully embraced the trappings of Hollywood life since the franchise returned to the city in 2015. The influence of the Rams' showbiz-obsessed hometown is evident in the hype video the Rams released this week to pump up their fans. Pretty much every team produces these slick videos (although few  adopt the cinematic term "trailer" to describe them). But only the Rams could put together a playoff hype video like this one, which tells the story of the 2021 Rams almost entirely through the lens of sports media talking heads.
Generally, the idea of a football hype video is to get fans excited with clips of exciting action from the season, but this trailer has almost none of that. The Rams instead fixate on all the shit that ESPN pundits and podcast influencers have said about them over the past few months. It's the football-video version of an insecure Tinseltown B-lister scrolling through their Twitter mentions. Because sure, their explosive offense and hard-hitting defense made the Rams one of the most entertaining teams to watch this season, with countless spectacular plays worth revisiting—but more importantly, do you remember that grumpy meme that @Mike_NYY posted to his feed in December?
THE DORPFASTCALC PICK: Arizona 28, Los Angeles 26.
Keep on long snappin'
Doink-O-Rama is a free subscription for the foreseeable future. If you want to help me out, share the column with a friend who might like it.
Reach out with your questions, observations, or doink sightings by emailing: doink at ological dot net.
Thank you for reading. Until next week: Keep on long snappin'.